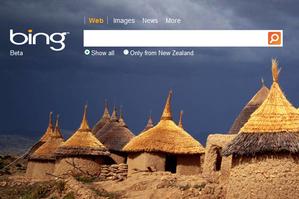 Microsoft's Bing search engine is adding an entertainment page that allow users to watch television shows, play games and listen to music without leaving the website.
Bing is providing local TV times, movie listings and access to song lyrics, Yusuf Mehdi, senior vice-president of Microsoft's online audience business, said yesterday.
The features may help Microsoft gain ground on Google's dominant search engine.
A survey of Bing users found 76 per cent want one online destination for entertainment options to eliminate clutter, Redmond, Washington-based Microsoft said.
Bing organises search results into TV shows, music, video games and movies.
"As the content on the web has exploded, it has become difficult to navigate and find what you are looking for," Mehdi said. "So we see a great opportunity to help customers make important entertainment decisions."
Using Microsoft's Zune music service, Bing provides one-time access to 5 million full-length songs and then 30-second clips afterwards, according to Adam Sohn, a Bing spokesman.
Listeners will also be able to buy the track, read the lyrics and find concert information.
The service also lets users watch 1500 TV shows and 20,000 full-length episodes of programmes posted at Hulu.com, YouTube.com and at the websites of cable and TV networks, without leaving the Microsoft website.
Bing also provides reviews, programme times and the ability to invite friends to watch together on Facebook, Twitter and other social networks, Microsoft said.
Users will also be able to find movie times and buy tickets, and watch trailers and clips with search results.
Consumers can use the site to find video-game reviews and tips.
The site is providing 100 casual games, including "Bejeweled" and "Bubble Town", that can be played on the search results page.
Friends can also be invited to play along through Facebook.
- BLOOMBERG