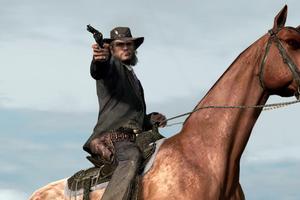 Think Grand Theft Auto meets the Wild West. That's the latest offering from Rockstar Games, industry leader in shock and awe. Red Dead Redemption follows tough-as-nails cowboy John Marston as he seeks to make good for years of banditry, murder and generally appalling behaviour.
A giant game by any standard - said to have cost Rockstar US$100 million ($148 million) to make - RDR is set across a great swathe of the US, with seemingly never-ending environments and frontier towns packed with wildlife, gunslingers, lawmen, sun-baked nutters and even the odd saloon hooker.
The story mode is totally non-linear, with main missions sending Marston off - solo or in a posse - to catch and break horses, fill scumbags with holes and much, much more.
Shooting from a horse is difficult, but Dead Eye mode, which slows down the action and allows multiple targets to be selected, makes life significantly easier, especially when you're involved in a big battle. Many missions can be completed at the player's leisure, and there are entertaining side projects - usually rescuing a damsel or recovering stolen stuff - throughout.
Free roaming challenges include sharpshooting, hunting - and collecting herbs. No, seriously. Galloping around the countryside will quickly lose its appeal, but setting up camp allows for instant travel and keeps the game flowing. When you get through the standard story mode, there's plenty of scope for online gunslinging as well.
As can reasonably be expected from such a large game, RDR is far from glitch-free. Graphical hiccups are fairly common and the PS3 version (as reviewed here) is said to run lower-resolution graphics. Having also played the Xbox 360 version, you are hard-pressed to tell any difference and the imagery is, on the whole, excellent.
Verdict: Glitches aside, Red Dead Redemption is a Western epic without any real genre competition. The Spaghetti Western soundtrack, deep storyline and script, and gritty voice acting are all superb.
Rating: 4/5

Format: Xbox360, PS3, R16