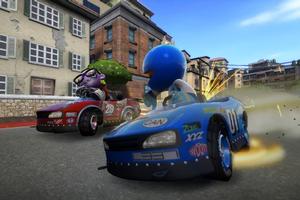 Ciao, Mario Kart, it's been a blast. Nintendo's king of the kart games has been knocked off its perch by United Front Games' latest effort, ModNation Racers. It's the second PS3 game to be released under Sony's "Play, Create, Share" banner a la Little Big Planet. It's a super-strong kart racing game in its own right, with the expected wild tracks, characters, difficult obstacles and three-tier objectives for each career-mode race. There are sweetly devastating weapons with three-stage power-ups to achieve maximum damage, plus a cool shield ability for when they're pointed at you.
Handling is sharp, with drifting ability smooth and controllable - watch for a mine track that can be completed in four big drifts. Karting goodness it is, but ModNation's creative tools are where the real fun lies. Players create their own "Mod" or character and karts from a massive set of tools, and can then share their creations online. Building tracks from scratch is a hugely rewarding exercise - and will see thousands of downloadable tracks shared online by other users, meaning an almost endless kart racing experience.
The track creation system is outstanding - you start by basically driving around an open space, literally making a circuit as you go. If you point your tractor uphill, it will build terrain underneath, if you go downhill, it digs a tunnel. Once the basic track is laid, you can elect to "autopopulate", which quickly adds all of the ingredients like trees, buildings, and on-track power-ups.
All up, this takes about five minutes, and looks like a professionally built circuit. More creative souls can make everything themselves, with the surprisingly advanced and powerful editing tools - everything in the game proper was built with these.
There's huge room for making totally unique environments, tweaking and adjusting existing elements in real-time rendering, with all of the great kart race tricks and traps from the game at your disposal as well.
The only real down point with ModNation (and it is a biggie) is the loading times, which are criminally long - up to 50 or seconds between screens, with several steps to navigate between career, online racing (very, very fun), and the ModStation. Also, while your mod is added to cutscenes in career mode, rendering sometimes goes a bit astray.
Verdict: ModNation Racers is without question the best kart racing game ever made, and the bundled creative tools make it almost endless from a gameplay perspective. The online community is already building up, and coming through. Search "modnation sucker punch" on YouTube, and check out Empire City from Infamous as a ModNation track. Freakin' awesome.