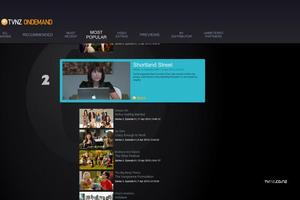 TVNZ's Ondemand service has made the leap from small PC screens to bigger TV screens via the PlayStation3, which this week gained access to streamed TVNZ content over broadband.
Taking Ondemand to the PlayStation 3 makes it a whole lot more usable.
Watching TV shows hunched over a 17" PC screen in a dark corner of the house may be doable, but it isn't terribly social, nor is it comfy. Over 105,000 Playstation3s are already plugged into TVs in lounges up and down New Zealand, allowing users to catch Ondemand shows on a bigger TV screen.
Launched in 2007, Ondemand mightn't be anything new, but that's definitely a good thing, as the service is already well stocked with over 150 TV series, meaning there's already plenty of content good to go.
Since 2007 Ondemand has doled out an impressive 1.5 million episodes to over 316,000 visitors per month.
Updating my Playstation3 to the latest firmware revealed a new TV icon on the PlayStation 3's Xross Media Bar. Clicking this took me to a shiny Ondemand icon, and ultimately to TVNZ's streaming shows.
Ondemand shows are searchable by a bunch of different criteria, ranging from an alpha numeric index, through to most popular and most recent shows. It's Intuitive design that makes full use of the Playstation3's interface. Coupled with a PlayStation3 (or Bluetooth media remote) controller, catching Ondemand content is almost as easy as driving a DVD player.
Comfort and convenience aside, one of the key issues with streamed video has been average to poor picture quality. The compromise that is streaming shows over broadband almost always means video quality suffers.
TVNZ however appear to have pulled a proverbial video encoding rabbit out of their hat, which when combined with the PlayStation3's 12 core powerhouse CPU and graphics hardware, managed to deliver surprisingly decent video.
Smaller PC screens may hide a multitude of video sins, but a 40" or bigger TV is totally unforgiving, throwing every pixelated image fault into sharp relief.
Catering to both slow and fast broadband, TVNZ are streaming video at 300Kbps (standard quality) and 700kbs (high quality).
On my moderately quick broadband connection with the high quality setting in use, some pixilation was noticeable, but Ondemand's video was close to standard definition broadcast TV quality with no stuttering or lengthy delays before shows started.
Others, however, have reported software glitches - perhaps due to the PS3 browser - and unimpressive low-def results on larger screens.
While Ondemand shows cost nothing to view, they are advertisement supported, with each 15 minute chapter displaying an short ad before starting.
Viewers also need to take into account broadband allowances as a night's viewing of streamed video can quickly chew through a sizeable amount of data.
This said, some ISPs don't subtract Ondemand viewing from broadband allowances, and unlimited broadband plans are also starting to become available.
Ondemand on the Playstation3 also provides a tantalising glimpse of the future of TV. Viewers not only get access to a growing range of shows when they want, they also bypass the limitations of traditional broadcast TV channels.
Broadcasters have long been hamstrung by the one-to-many broadcast model. Because only one show can be aired at a time, shows are more often than not limited to lowest common denominator content in order to secure ratings and grab advertising dollars.
Because Ondemand TV streams content on a one to one basis over broadband, old school notions of TV channels are tossed out the digital equivalent of the window.
Viewers can search for shows, catch previous episodes and watch shows whenever they want - as long as they have broadband, a PC or a PlayStation3.
Longer term, here's hoping TVNZ use Ondemand to deliver an increasingly diverse array of local and international niche content to an increasingly sophisticated audience that's quickly becoming used to downloading shows when they're not available locally.
Personally I'm hanging out for tech shows and more sci-fi.