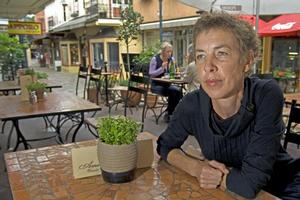 A restauranteur claims her business was pushed to the brink of closure by an angry email from a disgruntled customer spread "all around town".
Thousands of Whangarei residents are believed to have seen criticism of Italian restaurant Amici written by Nicola Donnelly on February 19.
The email claims owner Angie Deister screamed at Donnelly as she threw her out because her baby Maia was making noise during an opera performance.
It has prompted an inquiry at Whangarei District Council, where Donnelly works as a part-time human resources adviser.
Council spokesman Alan Adcock said Donnelly sent the message to colleagues from a personal account while she was home during her lunch break.
The organisation had launched an "internal investigation" after recipients used work accounts to forward it, contrary to email policy.
Deister says Donnelly and her family had been told about the opera night but decided to eat there and leave before the singing. She says she politely asked them to leave and waived the bill.
Deister estimates the email has cost her $4000-$5000 a week in takings.
She said almost everybody in town had seen it and she had heard about a high school teacher reading it to their hospitality class.
Deister said her business was only three years old and just getting off the ground when the incident happened.
"Turnover has dropped, group bookings were cancelled. One email almost wiped me out. It's unbelievable one viral email about an untrue story could impact on us so much."
Donnelly's email said family members were celebrating her daughter Maia's first birthday when Deister said "shut her up or go".
When she later refused to pay the entire bill, she said Deister came up at her screaming: "Just shut up, shut up, go away. Shut up and get out of here, get out. I don't want your money just leave, get out."
Donnelly wrote: "Honestly throughout the whole thing Maia hadn't made a sound. By this time she was eating icecream and playing with my phone."
She ended the email by asking recipients to pass it on.
Thomas Brown, who was sitting two tables away from Donnelly on the night, disputes her account and said the backlash against Deister had been "completely unfair".
"I could hear the child where I was at. It was absolutely distracting and hard to hear what was happening.
"It was not the sort of thing you want to deal with while trying to listen to classical opera."
Donnelly said this week she was "sick" of talking about the incident and was standing by her version of events.
Despite urging recipients to pass on the email, she had only sent it to a small group of friends and never intended it to spread so widely.
"I'm surprised it has gone so far. I stand by what I said but I regret all the publicity."
Viral venom
Other Kiwis have learned the dangers of forwarded emails the hard way.
March, 2010: DB Breweries executive Anna Isaac received an email containing one word - "whore" - from a work account belonging to Fergus Cleaver.
Isaac had rejected an approach for event sponsorship that Cleaver had been copied into.
She wished him luck getting sponsorship for future events after copying in key colleagues in the industry.
Cleaver apologised but denied sending the email.
December, 2007: Caterer Margaret McHugh sent an email to Hayley Johnstone, an accounts and event manager at Ray White in Auckland, which said: "Get into the real world young lady ... You were probably bottle-fed till late teens."
The email was sent after a series of emails querying a quote for a catering job.
McHugh later said she received more than 1000 emails criticising her.
August, 2007: Auckland University lecturer Dr Paul Buchanan was sacked after sending an email to a student refusing to extend an assignment deadline.
In a follow-up he said: "I say this reluctantly but not so subtly: you are not suitable for a graduate degree. It does not matter if your father died or if you have a medical certificate.
"The extension is meaningless because you have not attended the last few classes and are the worst performer in the class."
The Employment Relations Authority ruled he had been wrongfully dismissed and awarded $66,000 in lost wages. He was later reinstated.
October, 2006: Kiwi law clerk Craig Dale hit headlines around the world after sending an email to colleague Azadeh Bashari proposing they become "friends with benefits". Bashari forwarded the email with the title "loser alert" saying: "If you ever have the misfortune of meeting this little charmer, run!!!"