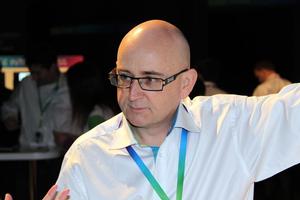 Antony Beswick is injecting a little bit of Kiwi ingenuity into technology giant Ericsson.
Based in the company's Stockholm headquarters, the former Central North Island farm boy now oversees the company's "Lifestore" product - a platform for telcos to create a social networking portal.
Lifestore allows customers to use text and picture messages to stay connected with their social networks and has been developed with those on a limited budget in mind.
In addition to text alerts for friends' updates on social media sites such as Facebook and Bebo, the system has an internet-based visual address book that allows customers to organise contacts across all social networks and address books from a PC.
Vodafone has also developed a visual address book for its new 360 service - yet to be launched in New Zealand - which brings together all contacts, be it friends or work associates, on to the mobile phone.
The Lifestore point of difference is that contacts can be visually arranged into groups - family, school friends, work associates - with ever-widening circles ranking people according to the closeness of the relationship.
Social networking updates are automatically sent to the mobile for a selection of five close friends, but updates from those at the outer edge of the friendship circle do not go to the phone.
As Beswick explains it, you can still stay in touch with a wide circle of people without being updated on what they had for breakfast.
Anyone you have not been in contact with recently gradually drifts to the outer edge of your circle of friends. A quick glance at the address book tells you who you have lost touch with.
Charging on a subscription basis for "all you can eat" or even offering it free allows people to connect to social media without running the risk of bill shock.
Because consumers are not constantly connecting to social networks it also reduces data traffic over the network.
Lifestore is aimed at telcos which have a large group of users with limited budgets and ability to switch phones on whim, but who are active in the social media space and are high text users.
Turkish mobile operator Avea was the first to launch the service in February, offering three months free.
"My goal is I want all operators to have this. In order for that to happen we need to keep innovating, refining and, most importantly, make it resonate with consumers."
The idea was developed three years ago when Beswick worked for Swedish company Mobeon, now part of Ericsson.
Despite referring to New Zealand as "back home", Beswick is firmly ensconced in Stockholm with his Swedish wife and school-aged children. In the rapidly evolving world of social media he aims to "stay in the race".