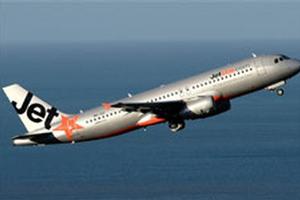 Qantas subsidiary Jetstar will begin rolling out SMS boarding pass technology this year as it aims to improve its customer service.
Jetstar chief executive Bruce Buchanan outlined the airline's moves to increase customer self service in a speech to an industry conference in Singapore.
Headlining the changes is the planned introduction of boarding passes and boarding codes being sent to mobile phones via a standard SMS text message.
In what Jetstar described as a world first, any phone will be able to receive the text-based boarding passes.
The service will be available to customers who purchase fares on Jetstar's website and request they be automatically checked in 24 hours before their flight.
The system will be trialled on Jetstar's Sydney to Melbourne flights from late February, before a rollout across all domestic routes later in the year.
"By introducing applications such as automatic web-check and SMS boarding passes, Jetstar saves real costs, which we are able to directly pass on to our customers with our low fares," Mr Buchanan said.
The number of self-check kiosks in Jetstar departure terminals is also to be doubled.
"The approach we are taking is firmly designed around improving, not reducing, the customer service and airport experience at increasingly busy terminals," Mr Buchanan said.
Jetstar's airport staff numbers will not be reduced, he said, with employees to be moved into customer service and revenue generating activities.
The renewed emphasis on customer service comes after several hiccups for the airline, most recently the stranding of passengers in Thailand for two days when their Jetstar flight was repeatedly delayed.
- AAP