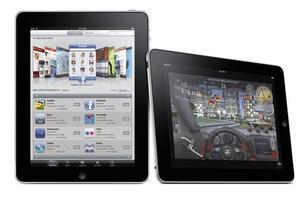 Apple's just-announced iPad looks like a giant iPhone, but it's a lot more than that.
As Apple CEO Steve Jobs said at the launch, Apple wanted something better for browsing the web than a laptop; better for watching video, listening to music, playing games on and for reading ebooks.
"If it has have a reason for being, it has to be better than that."
He said it would be a more "intimate" experience and moved to a couch to demonstrate just that.
iPad runs iPhone apps out of the box; either at one-for-one size in small window or as full-screen using pixel doubling.
Sure enough, the iPad has iCal and Address Book, and the iPhone's Google Maps, iTunes and the App Store built in.
In iTunes, the new LP content is supported natively in addition to the usual music, podcasts and other content. It syncs with iTunes over USB just like an iPhone or iPod, handling contacts, calendars, media and other data in the same way.
As an in-car navigator, the Maps app supports satellite view, pinch to zoom and geolocation.
But it's more powerful.
Apple has also created a version of its productivity suite, iWork, especially for the iPad. It works in portrait or landscape mode and supports multi-touch gestures.
In the word processor-layout app Pages, text auto flows and text editing was demonstrated. Keynote, a kind of PowerPoint with better graphics capabilities, you can rearrange slides and set transitions by using contextual interfaces that show up as you type. In the spreadsheet Numbers, there are multi-sheet spreadsheets, and touch-based resizing and moving of columns.
The on-demand keyboard changes context for things like numbers, text, time of day and other context-sensitive factors. Form and chart creation is now a more visual, tactile experience.
Interestingly, each of the iWork apps is available separately for US$10 and they won't come bundled. This is a huge saving over iWork for Mac, and could really make taking your work on the road a pleasure.
A touchscreen naturally lends itself to a more tactile computer painting, too. Another app called Brushes was shown off at the launch. It's an art browser which lets you view artwork as though you were in an art gallery, complete with little description cards below each painting.
Gaming
Gaming has been a great success with the iPhone but, frankly, the more detailed games just aren't big enough to really engage with on the little iPhone screen.
That's where the iPad could come in handy, for the more physical types of games like the Wii or the accelerometer-aware games of the iPhone/touch.
EA Game's Travis Boatman was at the launch to show off Need for Speed retooled for iPad.
Electronista's attendant journo said the sheer size of the iPad's screen (compared to the iPhone and touch, anyway) was like holding an HDTV a few inches from your face because of the screens high resolution.
Online
Of course, to be truly useful, it needs to be online. I always thought this could only be achieved with a cell data plan which means yet another device you have to pay monthly on, and sure enough, iPad supports 3G.
In the US, data plans normally cost US$60 a month for a laptop (about NZ$85). On the iPad, 250MB of data per month will cost US$15 (less than the usual US$35, Electronista reported.
Another US iPad plan is $30 for unlimited data – that's about NZ $42. Going by the differences between iPhone plans elsewhere and New Zealand, we'd end up paying $80 plus, but I'm just (cynically) speculating here. Vodafone NZ has not commented, but since Vodafone already carries the iPhone, it's the natural candidate.
Mac in your pack
Physically, it's 1.27cm thick, weighs less than a kilogram (680 grams), and the screen is a 9.7-inch IPS LCD touchscreen (that's almost 25cms diagonally). That's pretty portable, and definitely sleeker than a laptop.
But two factors trouble me: 1/ if it's a substitute for a laptop (and it is smaller and more portable), how fragile is it? There's definitely a market for a good, rugged, shock-resistant case for it.
Coupled to that is – a large touchscreen (it takes up almost half the screen) keyboard is fine for emergencies, but for extended typing sessions? No way.
I'd want to plug a keyboard in. And sure enough, the iPad has a keyboard dock that adds a physical keypad plus charges the iPad while you type. A book-like case that acts as a stand for typing and a dock for a photo frame mode will also be available.
And 2/ – does the content available justify its purchase? Because it's the content, much like the App Store for the iPhone, that will really make this new device useful, not its physical specs and capabilities.
But since Apple has released (today) an updated iPhone SDK to encompass the iPad, iPad app growth could stimulate this new device ecosystem just like the iPhone OS did, ensuring its success.
Since Apple also announced it's is now the largest mobile device company in the world, Apple has the muscle to pull this off, having made an amazing US$15.6 billion in the last financial quarter.
The New York Times already has a native reader app for the iPad. It syncs from the iPad to other devices, maintaining your place, and the reader includes embedded video. This could really revitalise the newspaper industry. And it's about time, frankly.
A book section has also been added to the iTunes Store for iPad purchases. When reading a book, users just tap anywhere on the right to flip forward, and tap on the left side of the screen to flip back.
Five major book partners are already on board – HarperCollins Publishers, Hachette Book Group, Penguin, Macmillion and Simon & Shuster.
Specs
The processor is an Apple badged unit – a 1HGz 'Apple A4'. Since Apple bought PA Semi last year, many have been speculating that this was to develop mobile device chips, as has come to be.
You can get it with 16, 32 or 64GB of solid-state Flash storage, and the faster, newer 802.11n Wi-Fi standard is on-board, to save on your cell data plan when you're inside a WiFi network.
As a contract-free purchase, users can buy 3G-enabled versions of the iPad. The AT&T network in the US access can be purchased, or canceled, at any time directly from the iPad.
Apple promises 10 hours battery life of for browsing, etc. This is about the same as my iPhone, but we'll just have to see.
Cost
This is all going to cost a fortune, right? People in the US were saying 'I want one but I'm not buying one if it's more than US$1000.'
Well, the price is $499 for the 16GB; $599 for 32GB and $699 for 64GB. That's about NZ$706, $848 and $990, but of course, they'll cost more once landed here, for shipping, handling and other reasons. (3G-enabled versions of the iPad start at $629.)
Final thoughts: I'm most excited about the more physical, tactile way of manipulating data in the iWork apps. If this comes to the Mac, the whole techverse of computing will change again.
And that's really cool.
But many questions remain: when will it be here? How will it sync with your Mac or PC? Who's going to buy them? I'm all ears.
- Mark Webster mac-nz.com