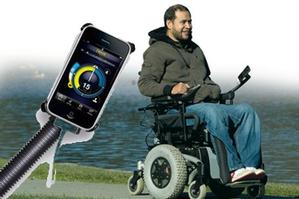 Christchurch continues to be something of a hotbed of iPhone innovation, with Dynamic Controls having integrated Apple's iPhone into its power wheelchair electronics. In other words, power wheelchair users can enjoy all the benefits of an iPhone or iPod touch while wheeling about, while listening to music if they choose.
CEO Charlotte Walshe told me "We've been doing some research with wheelchairs users and that gave us some ideas on how we could make the power wheelchair experience more positive and useful, but not specifically on what technology that would require.
"But as you can imagine we have some pretty creative people here and a fair number of us are tech geeks. Add to that the iPhone and its immense possibilities as an experience and portal device, as well as its medical device bluetooth pairing with v3.0, and suddenly the ideas and the technology came together and the possibilities seem endless. So in short - [it was] a team effort between us and our end users."
The solution connects a user's iPhone or iPod touch to the wheelchair system via Bluetooth, then displays chair information in real time as well as speed in kilometres per hour (or mph), plus compass heading. A cradle is available to mount the iPhone or iPod touch onto the wheelchair.
Lee Kwok, a wheelchair user in Christchurch, says it will be fantastic to buy an off-the-shelf product that has so many features for powered wheelchair users.
An on-chair charger is incorporated for the iPhone and there's a 'chair doctor' wheelchair diagnostics feature that interprets problems with the wheelchair.
It operates with an iPhone 3G, 3GS or the iPod touch (running systems V2.0 or 3.0) and can be fitted - easily - to any new or existing Dynamic Controls DX2, DX or Shark wheelchair control systems. The wheelchair does not require reprogramming.
Dynamic Controls is a designer and marketer of electronic controls for powered wheelchairs. For over 30 years it has been manufacturing speed controls for industrial forklift trucks and personnel carriers, with controllers for powered wheelchairs added in 1981.
The firm employs 360 staff (180 of whom work in New Zealand). It sounds like a fun place to work - according to Charlotte Walshe, Dynamic Controls is currently testing out a powered chair with speakers and "driving loudly round the place with our app telling us how fast and how far etc".
Other iPhone app news
In other iPhone app news, the Auckland duo which operates as Rosebrae Technology, and which developed the rather un-PC iPhone app iRateEm , has a new, more serious app available. Clocks - Multi Time Zone Alarm Clock helps travellers keep time wherever they're headed, complete with seven built-in alarms. This seems genuinely useful. Both apps cost $1.29.
Another local (NZ) development had Te Aro photographers Chris McCarthy and Melanie Dixon, plus graphic designer Kathy Smythe, create a photo tutorial app with developer Alexander Ketko, working as ISLAP 101.
Their Photo Tutor Modules 1 & 2 are designed to demonstrate to new-to-photography students how aperture and shutter speed work. 'ISLAP, by the way, stands for 'I Shoot Like A Pro'.
The examples are graphic and striking - you stroke an on-screen dial and the images change to show you what a fast shutter speed does compared to slow, or how a wider aperture affects depth of field compared to a narrow aperture.
Photo Tutor Module 1 (aperture) costs $2.59, while Module 2 (shutter speed) costs $1.29.
The two apps also include 'recipes' you can check against the conditions you face on the go, to get you away from your camera's Automatic mode. There's a free version too: Photo Tutor Lite.
There are other New Zealand apps I haven't noticed before, too. Flicks NZ is the official app of NZ's movie guide site, flicks.co.nz. It helps you find cinemas close to you, and tells you session times and gives info about the cinema itself.
New Zealand Speed Date is a fast way to get boxes of sweet, sticky dates delivered to your door - Turkish, Algerian or Egyptian. Just kidding - it's built by SpeedDate.com Inc, a worldwide online ad/link-up service, and it's localised to help Kiwis find people to, erm, go out with. And I may have been more cynical about this a year or two ago, but now I know several happy couples who met online or via other modern conduits. So: no comment, apart from 'good luck'. (It's free, too.)
The Edge is by Jacobs Media, and streams the Edge's radio station to your iPhone. Luckily it's free.
TV Listing from Less Code Ltd is a freebie that lists seven days of TV including TVs 1-2-3, plus Maori Television, C4 and the Freeview channels including Stratos, Parliament TV and Chinese TV8. It's add-free and uncluttered.
Marine New Zealand presents coastal nautical charts from Norfolk Island to New Zealand. Could be useful, presuming you're still in cell range, and it's not a New Zealand production - that's $15.99.
Sygic Mobile Maps is cheaper than TomTom ($119.99) at 'just' $84.99. It offers turn-by-turn voice navigation and animated 3D maps, updating via GPS (of course).
And Speedcams New Zealand is currently on sale for ... free. This is not a NZ-developed app, but it is localised for us.
There are a lot more, actually. Open iTunes, go to the iTunes Store, click on Power Search over at top right, specify Applications and type 'New Zealand' into the 'Title/Keywords' field. Press Search.
Many of the apps are localised for locations, with guides to Picton, Hastings and Blenheim among them.
Finally, you can take the Catholic out of the church but you can't take the church out of the Catholic. You can't take either out of me, since neither were ever in there, but oddly I'm fascinated by the Saints. So I like the free Catholic Calendar from Universalis Publishing. And no, no New Zealand connection at all, apart from we've had a Catholic presence here since the 1800s, of course.
With tens of thousands of iPhones sold in New Zealand in the last 18 months or so, many of these apps are sure to find good homes, and many will also be handy to anyone planning on visiting The Land of the Long White Cloud.
As always, if you have NZ app development news, please let me know,
- Mark Webster mac.nz