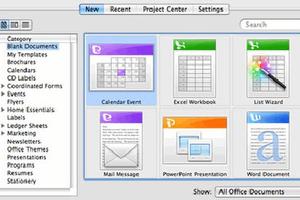 I said it many months ago - if you can get what's essentially a version of OS X running a pocket device (iPhone, iPod touch), it has to impact somehow on Apple's computers.
And it has - Snow Leopard runs lean and efficiently compared to Leopard, benefitting no doubt from some of Apple's lean, mean iPhone OS development.
Microsoft has followed a similar path with Windows 7, making it leaner and more efficient instead of just adding loads of features.
While many like to talk up the rivalry between Microsoft and Apple, behind the scenes the two companies have engineers working hard to negotiate the digital and cultural divides between the two companies.
One thing Apple fans (myself included) like to lambast Microsoft with is over-complication of product lines. Some PC fans like to lambast us with oversimplification, but that's what most of us prefer. Whatever the truth, I'm pleased Microsoft has just simplified the Office:Mac lineup.
Formerly, there was a version for teachers and students, a home user version and a business version. Now the home and student versions have been amalgamated, and the business version has been revamped to be both cheaper and with new features. This has just been released, and is now called 'Office 2008 for Mac Business Edition'.
I would hope, for PC users, that this product simplification heralds a sea change at Microsoft. Not that I'm not holding my breath. The Mac BU may be a 200-strong unit of Macophiles, many of whom make my own Apple partisanship look pale and insignificant, but that doesn't mean they have much influence on the rest of Microsoft, despite being headquartered on the same Redmond, Seattle campus.
This new Office:Mac Business Edition adds Document Connection to improve access and borrowing on SharePoint and Microsoft Office Live Workspace. This, I imagine, is to enable collaboration on documents with your business colleagues. There's a whole lot of clip art included too (over 200 clips) and there's a whole separate disc containing over seven hours of lynda.com training.
It's hard to argue with the price. OfMBE is on sale for $599.99 for three months, then the price goes up by $100. Even this is considerably cheaper than the version it replaced, which listed for over $1000. There's a Version Upgrade too - if you're eligible, that's $399.
Office 2008 for Mac Home and Student Edition, the new amalgamated pack for you and me, costs $269, but anyone can get the new Entourage 2008 for Mac, Web Services Edition for free - just download it from here.
And you must know what I'm thinking now - can't Microsoft simplify the names, too? I mean, even the abbreviation 'OfMBE ' hardly trips off the tongue. So maybe I'll stick with my 'MO Biz Ed'.
Although with Apple's much simpler schemes, people still get it so wrong. I can't count how many times I have heard 'iTouch' for iPod touch, or even the anachronistically just-plain-wrong 'iBook Pro'! I have also seen spellings like 'Iphone'.
All I can say is 'iArrgh!'.
Microsoft did trip up a little on the new Biz Edition installer disc, though - perhaps because the Biz Ed software can still be used on a PowerPC (G4, G5) Mac, the installer code was overlooked and left as the PPC version.
Snow Leopard, which MO Biz Ed works fine with, is not supported on PowerPC, so if you don't have Rosetta installed on your Snow Leopard Mac, it spits the disc out. And this could well throw a lot of people.
I didn't notice any problem, as I did have Rosetta (the translator code) already installed on my Snowy system. This problem was actually picked up by accomplished NZ IT writer Juha Saarinen, who wrote about it on ZDNet Australia.
Office:Mac Business Edition also contains the Web Services version of Entourage with support for the latest version of Exchange Server. There's more technical info about all this at this Microsoft posting.
And that's interesting, too. As Apple has been putting more effort into fitting into the corporate world, the Californian company has been expanding Mac support for the non-Apple protocols involved in most networks, to the extent it has actually done away with the venerable (some would say 'accursed') AppleTalk networking entirely with the Snow Leopard OS.
Meanwhile, some Mac pundits claim that Microsoft Exchange Support is Snow Leopard's single - or at least, most important - headline 'new feature'. Especially considering that Windows - Vista or 7 - does not have Exchange support built in. Or so I'm told.
Entourage support in Snow Leopard could well be another result of that iPhone OS connection, since already in iPhone OS2 there was some support for Exchange. Apple expanded this support further in OS 3.0.
On the Mac now, Snow Leopard's Exchange support is weaved pretty seamlessly into the applications iCal, Mail and Address Book.
But be warned that this Exchange support will only work with a server running Exchange 2007 (Service Pack 1, Update Rollup 4) or later.
And in further simplifications, switchers to the Mac are often a bit put out that they can't have 'Outlook' despite having Office:Mac. That's because on the Mac, Microsoft's email client was inexplicably called 'Entourage'. And you know how it is; some people like to minimise change despite moving to an entirely new platform.
Anyway, soon that will no longer be the case, as Microsoft has announced that Mac users will 'one day' get 'Outlook for Mac' instead, with the next version of Office.
Good.
- Mark Webster mac.nz