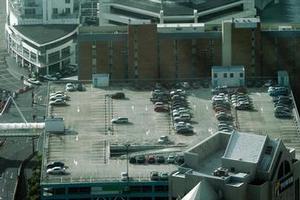 Auckland regional leaders vow not to repeat past waterfront development "mistakes" when opening Queens Wharf to the public and more cruise ship passengers.
Car parking dominating public space on neighbouring Princes Wharf and a lack of community facilities amid private buildings was highlighted at a regional council transport committee meeting yesterday as something to be avoided in doing up Queens in time for the 2011 Rugby World Cup.
But efforts by councillor Joel Cayford to draw comparisons between the wharves drew an angry retort from chairman Mike Lee, who accused him of misrepresenting the organisation's position as it works with the Government and Auckland City towards a design competition.
Dr Cayford said a council plan change in 1990 prescribed an appropriate balance of commercial and public activities for Princes Wharf, including a museum and theatre or cinema as well as other facilities such as a market or gallery.
"Yet go down to Princes Wharf and where do you find museums, art galleries or a market?" he said. "That plan change provided for all these things explicitly and we came up with what we've got - a huge amount of space for car parking and public spaces that don't work very well."
He called for a mechanism for allocating space at Queens Wharf.
But Mr Lee said the council was committed to twin objectives of opening the wharf to Aucklanders and providing a cruise ship terminal of international standard which would be available for a variety of activities between port calls.
"So I don't want Councillor Cayford, for purely political considerations, to misrepresent the ARC's position," he said. "The ARC has a record second to none in securing public open space but when we wanted to buy land [with Auckland City] for a headland park on Wynyard Point, Councillor Cayford voted against that."
Council chief executive Peter Winder said the design competition brief, which may be ready next week, would specify provisions for public open space as much as for a cruise terminal.
Committee chairwoman Christine Rose acknowledged having "the lesson of Princes Wharf before us and we all hope those mistakes won't be repeated".
Parks and heritage committee chairwoman Sandra Coney said that although there were significant errors over the way Princes Wharf was built over, it had begun with galleries and more facilities than were now there. Businesses running those had failed, and the council needed to understand why, as the redevelopment of Queens Wharf would rely on successful private involvement.
But Mr Lee said no one had any intention "of putting a collection of bars and sheepskin shops on Queens Wharf - we want to keep it open and uncluttered."