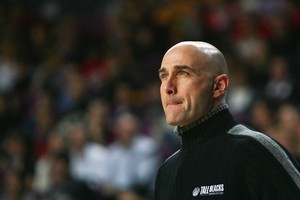 The Tall Blacks are full of confidence ahead of tonight's first Oceania Cup basketball match against Australia.
The Kiwis, ranked 18th in the world, recently won the Stankovic Cup in China and beat the Boomers in 2009 to take the Ramsay Shield.
This week the Tall Blacks meet the Australians in a best-of-three series, with the winner qualifying for next year's Olympics.
Coach Nenad Vucinic said the Tall Blacks' build-up had been thorough since their trip to China and tour through Europe, where they played Turkey, Macedonia and Montenegro.
"We have been competitive with [Australia] for a number of years now ... They've got some extremely talented individuals, high-level players on a world stage. But we are a very good team. Maybe we don't have some big names around the world but this team is making a mark on the world stage as well.
"We never lack self-belief, but we know it's going to take a big effort."
Wrapping the series up in the first two games would be a remarkable achievement, considering the Boomers can call on the likes of Portland Trail Blazers point guard Patty Mills, who recently signed with the Melbourne Tigers after the NBA lockout, which has their next season on hold.
A sell-out crowd of more than 3500 will see Mills play in game one on his new home court in Melbourne.
"He's a good player, but it's not about shutting down Patty Mills," Vucinic said, "it's about shutting down Australia."
Australia are without Milwaukee Bucks centre Andrew Bogut but the Boomers still have European-based centres Andrew Ogilvy and Aleks Maric in their squad.
The Tall Blacks called in 20-year-old big man Rob Loe from the St Louis Billikens in the United States, where he has been playing college hoops for the past year.
New Zealand Breakers forward Leon Henry said the national squad had the ability to pull off a series win.
"From what we believe, they do respect us and that was seen from the last Oceania series that it is going to be a battle."
Playing as a team will be vital for the Tall Blacks and everyone in a black singlet will need to do their part, while some shooting magic from former NBA player Kirk Penney would not go amiss.
The Tall Ferns play the No 2-ranked Australian Opals this week in the same format as the men, with Olympic qualification also on the line and the women's games will be played as curtain-raisers.
NZ SQUADS
Tall Blacks: Tom Abercrombie (Waikato), Benny Anthony (Waikato), Mark Dickel (Southland), Michael Fitchett (Nelson), Rob Loe (Saint Louis Billikens), Casey Frank (Wellington), Leon Henry (Wellington), Kirk Penney (Fuenlabrada Spain), Alex Pledger (Waikato), Lindsay Tait (Wellington), Mika Vukona (Nelson), Corey Webster (Wellington)
Tall Ferns: Kate McMeeken-Ruscoe (Logan Thunder, Beenleigh, Queensland), Lisa Wallbutton (Albury Wodonga, Victoria), Natalie Taylor (Ballarat Rush, Victoria), Antonia Edmondson (Bendigo Braves, Victoria), Micaela Cocks (Sandringham Sabres, Victoria), Rebecca Drew (University of Hawaii), Jillian Harmon (Pool Comense, Italy), Jordan Hunter (Crowder College Lady Riders, Missouri), Jelena Vucinic (Louisiana Tech, Louisiana), Angela Marino (Adelaide Lightning), Suzie Bates (Otago), Daneka Wipiiti (Otago)
- APNZ