Cairo Knife Fight is back in New York City this week, kicking out the jams alongside Princess Chelsea, Pikachunes, Popstrangers, The Golden Awesome and Andrew Keoghan as part of the 2011 CMJ Music Marathon.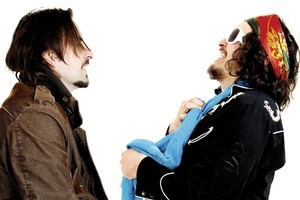 Nick Gaffaney (left) and Aaron Tokona. Photo / Milana Radojcic
For Talking Heads, Cairo Knife Fight's Nick Gaffaney and Aaron Tokona talk about the dynamic that defines their two-man army.
Watch full 1080p Cairo Knife Fight Sundae Sessions:
The Secrets Of Sin
The Opiate Of The People
The Violence Of Action
- Volume