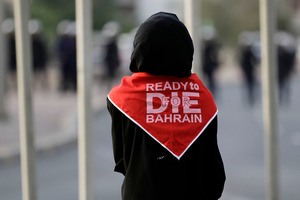 Bahraini opposition activists have attacked a former British police chief for suggesting the Gulf kingdom is now safer than London, pointing out that extra-judicial killings, torture and kidnappings have continued since he was hired to reform the nation's security forces.
John Yates, the former Metropolitan Police chief who was heavily criticised for his handling of the investigation into phone hacking by News of the World journalists, began working as an adviser to the al-Khalifa dynasty in December.
He and former Miami police chief John Timoney are tasked with reforming the security services after more than a year of civil violence sparked by pro-democracy protests.
In recent weeks the Formula 1 franchise has been under increasing pressure to cancel this month's Grand Prix on April 22.
Opposition groups point to continued repression of predominantly Shia protest groups in the Sunni-led kingdom and the authorities' refusal to allow prominent activist Abdulhadi al-Khawaja to return to Denmark, where he has citizenship, as reasons to cancel the race.
However in a letter to Jean Todt, head of world motorsport's governing body the FIA, Yates urged teams to travel to the kingdom stating that his family felt safer in Manama than in London. In the letter dated April 11, Yates recognised that "nightly skirmishes" in Bahraini villages were of concern but said social media often "overplayed" the nature of the violence inside the kingdom.
"I feel completely safe," he wrote. "Indeed, safer than I have often felt in London."
Opposition groups and human rights activists condemned his comments, stating that violence from security forces was still commonplace despite promised reforms.
Maryam al-Khawaja, the daughter of Abdulhadi al-Khawaja and a member of the Bahraini Centre for Human Rights, told the Independent: "Before he says Bahrain is safer than the UK, John Yates should spend some time in the villages that are tear-gassed every night by the security forces.
"He should sit down with the families who have lost children that have been shot in the head.
"He should speak to those who lost an eye or a leg, or were the victims of psychological, physical and sexual violence at the hands of the country's security forces."
- Independent