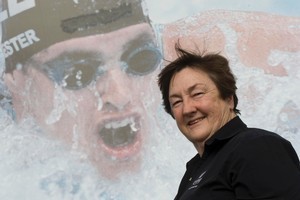 When Jan Cameron applies the mirror test, she knows she's leaving Swimming New Zealand having done a good job.
The redoubtable former Australian Olympic silver medallist parts company with SNZ on Friday in the wake of the Ineson report, commissioned by the Government sports funding agency Sparc.
Released in June, and written by former hockey international and sports administrator Chris Ineson, it was highly critical of many elements of high performance swimming, and Cameron was in the firing line.
However Cameron, who started in New Zealand resurrecting the North Shore club in 1991 before becoming an integral figure in the Millennium Institute's high performance operation after the Sydney Olympics of 2000, stands her ground on the quality of the work she's done.
"Look, in life you only really have to look in the mirror," Cameron said yesterday.
"That's your judge of how you've done and what you've done. If you do that and you're happy that's all you have to be. I look in the mirror and can be pleased with what I've done."
Cameron, who was SNZ's general manager performance and pathways, won't go into the issues involving her resignation from SNZ or the flames put under the national body by the Ineson report, nor will she discuss the imbroglio involving the national body and the eight regions who have called for wholesale resignations of the board ahead of this month's annual meeting.
However on one topic she rolled up her sleeves, labelling the Ineson report as "rubbish".
"Poorly written, poorly done, rubbish," she said. Elements within the 32-page report released in June were "speculation, opinion and unsubstantiated stuff put there as facts".
Cameron is taking a few days to sort out her future direction, but maintains swimming will never be far from her thoughts.
"It will always be a significant part of my life, it has been that way for 40 years, and I'm appreciative of the people who give up their time and do more than is required to help."
One point which clearly hurts is that Cameron is adamant the sport is in far better shape at top level than it was when she began. If it were not, then you might accept a need for change more easily.
She cites the ability of more swimmers to compete on level terms with the world's best as proof of the strides the sport has taken in the last decade.
Seven national records and athletes meeting or beating qualifying times for next year's London Olympic Games add to her contention that the sport has been moving sharply in the right direction.
Cameron's passion is firmly intact. It's just a suspicion, but it's unlikely swimming has seen the last of her. The sport cannot afford to turn its back on people with her skill, energy and knowledge.
"Now a door is closing, I'm sure [others will] open," she added.
SNZ chief executive Mike Byrne yesterday paid tribute to Cameron's work, and supported her contention on the state of the high performance end of the sport.
"She has had significant input into the development of our leading swimmers over the last decade ... she leaves swimming in a stronger position than when she found it," he said.