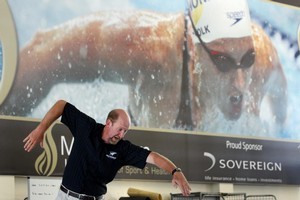 Swimming NZ are altering their coaching structure next year after Mark Regan's resignation as head coach.
Regan is expected to sign a contract with SNZ tomorrow which will move him back to coach full-time at Auckland's Millennium Institute rather than a role across the country. The contract is until after the London Olympics.
He is believed to have been stressed in the head role position, especially during the Commonwealth Games, culminating in an offer to step aside.
Regan did not return calls yesterday but sources said he did not receive the level of autonomy he expected after starting in January. One described him as realising he was "another puppet in the regime". Another said Regan was "not a happy camper".
Former SNZ head coach, now general manager of performance and pathways, Jan Cameron, said both parties are satisfied with the resolution.
"He's agreed to devote his time to coaching the [Millennium Institute high performance] group to the Olympics but won't have to run around the country dealing with external matters," she said.
"He resigned the head coaching role but never waned in his support for the programme. We are now not putting in a head coach to London."
Regan was head coach of Denmark for six years and before that led the Australian Institute of Sport programme in Canberra. He has coached athletes to six Olympic medals during his career and will now share the New Zealand coaching responsibilities with Scott Talbot.
Sources said the initial move to have Regan stay post-Delhi was to present a settled facade so SNZ would be guaranteed Sparc investment when the contestable funding and individual performance enhancement grants (PEGs) were considered last week.
But SNZ offered full disclosure to Sparc. Once Regan signs his new contract, any qualms will dissipate.
Last year SNZ received $1.35 million in high performance funding from Sparc. Their four silver and two bronze medals in Delhi means a similar amount is likely. Ten individuals will get $20,000-$40,000 in PEGs to match their world ranking.
However, swimming still remains under scrutiny given it is the only one of six targeted Olympic sports not to bring back a medal from Beijing.
The pressure that comes with that is cited as evidence of a "culture of fear".
The high performance group met during the recent national short-course championships in Mt Maunganui after feedback from an anonymous Sparc questionnaire on experiences at the Commonwealth Games. Athletes were told in future to go to SNZ with their problems - not Sparc or media.
The swimmers - who consistently ask for anonymity - claim there's a belief if they say anything out of turn they risk the organisation's wrath and being squeezed out.
"You feel that if you put your head above the parapet you might win a small battle but you'd lose the war and never get picked again or be ostracised," one source said.
Cameron says no such culture exists. "I find that a bit strange because I used to coach quite a few of those athletes. I'd like to think we can work together. It is still my passion to see us produce Olympic medallists."
New Zealand's last Olympic swimming medals were Danyon Loader's two gold medals in 1996.
Cameron also confirmed SNZ's alcohol policy will be reviewed after Daniel Bell's third drunken escapade at a major sports event.
"It was Mark's [Regan] policy but it is my job to support the coaches. Whatever we come up with next time, everyone will have to back it again."