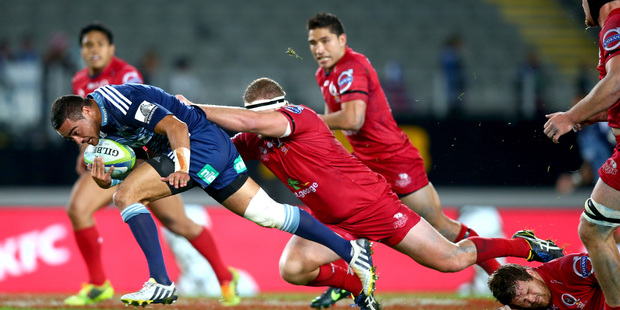 BLUES 44
REDS14
If only the Blues didn't ever have to leave Eden Park. If only they were a bit more Dr Jekyll and a bit less Mr Hyde they'd just about have everyone convinced they could be champions.
If they play like they did tonight, they could be. They were impressive. For the first time this season they really looked like they knew what they were trying to do and how to go about doing it.
There was no ambiguity or hesitancy - everything was direct, purposeful and intense. A city hopes this is the true Blues - the way they really are and the way they will be next week. The big names delivered.
Ma'a Nonu was immense. Jerome Kaino had another big night. Charles Piutau threw off defenders and big Tom Donnelly crashed over for a try to cap a night of hard work that was invaluable.
Then there was Bryn Hall, the livewire halfback who outplayed Will Genia and darted, probed, passed and kicked at all the right times.
The Blues, on this evidence, may have found themselves. From here they could push on.
They were seriously good and not just because they chanced their arm and it came off. But because they did all the nitty gritty, too.
They scrummaged with venom. They cleaned out and carried hard. Their defence was a weapon. Their lineout worked, the error count was low and the tempo was high.
But better than that, they showed imagination, flair and profound understanding of what they were trying to achieve. The spin it wide and hope routine of old was revamped.
The Reds were duff - no doubt about that - but the Blues did their bit in making them look worse than they were. There was, at last, cohesion and subtlety in the way they attacked.
Previous weeks have been about the power of the individual: this was different. This was a team effort with obvious training ground improvements in evidence.
There was more structure and thought behind their starter plays: they were prepared to put two long passes behind dummy runners to try to work the wide men free. It worked.
Piutau, Frank Halai and Lolagi Visinia had more space and freedom than they have had all season and the Blues felt like they were always going forward.
They looked like they were playing the game at a pace that was too fast for the Reds. The wider the Blues went, the more success they had.
Visinia was a handful - creating the first try with an outside swerve and scoring the second. Piutau made huge metres and Halai gave his best performance of the season - seemingly relishing his greater involvement.
Blues 44 (J. Willison, L. Visinia, B. Hall, T. Donnelly, I. West tries; S. Hickey 3 pens, 4 cons; I. West con)
Reds 14 (B. Daley, J. Horwill tries; Q. Cooper pens, cons)