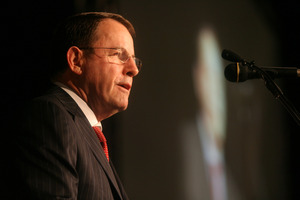 Act's John Banks and United Future's Peter Dunne will - like the public - support the Government's pokies-for-convention-centre deal with SkyCity once they see the details, Prime Minister John Key says.
Emboldened by polls which show support for his Government undented by the controversial proposal, Mr Key was aggressively selling the deal when he spoke to reporters after the Cabinet meeting yesterday.
"Are we being creative looking for a deal? Yes. Is it in Auckland and New Zealand's best interest? Yes. Will there be less pokie machines at the end of this transaction over time? Yes."
However, while the Maori Party will not say whether it will support any changes to the Gambling Act required if the negotiations with SkyCity bear fruit, the signs are not good for Mr Key.
Maori Party whip Te Ururoa Flavell has said his party will "oppose in the strongest possible form any suggestion that will enable SkyCity to benefit from special provisions including a proposed increase in gaming tables and machines at the Auckland casino".
Should the Maori Party vote against the legislation, National will require the votes of Mr Banks, who two decades ago opposed more liberal legislation on casinos, and Mr Dunne.
While Mr Key said he had not had any direct discussions with either MP, "my expectation is yes, they'll support it".
"My sense is if we can conclude a deal then they will see the same benefits that other New Zealanders will see, which is more jobs, better opportunities for our young people, a good environment to be operating in and 200,000 extra visitor nights coming from overseas. I think all of those things make that deal pretty compelling."
A spokesman for Mr Dunne said the United Future leader and sole MP would not commit himself either way at this point. "He cannot come out with a position on something where none of the details are available. Until we know what we're dealing with there's no position to be taken."
Mr Banks said he had no position to take on the negotiations because he knew nothing of the detail.
"I cannot confirm what the deal is. I do not know and I haven't been consulted."
He said he would not be "yapping about something I know nothing about".