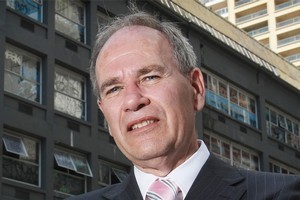 Super City reporter Auckland Mayor Len Brown has suffered an early knock-back on funding options to pay for major transport projects when councillors rejected three of his 13 options yesterday.
The options for a regional GST, income tax and payroll tax - dubbed "Jafa taxes" by councillor Christine Fletcher - were declared unrelated to transport and an act of hara-kiri by councillors, who voted 10-8 to leave them off the list of funding options for public feedback.
In what what would have been a bigger setback, Mr Brown's refusal to consider asset sales almost got over-turned.
It took strategy and finance committee chairwoman and former Act MP, Penny Webster, to save face for Mr Brown by using her casting vote to keep asset sales out of the mix of options.
The mayor has had a rough political ride since announcing a long-awaited discussion paper on Monday to stop dodging what he says are the tough decisions to get Auckland moving.
The paper has received a lukewarm response from the Government with Prime Minister John Key supporting calls to include asset sales and Transport Minister Gerry Brownlee saying he would be reluctant to consider increasing fuel taxes.
But Mr Brown, who has also been applauded for addressing a $10-15 billion transport funding shortfall over the next 30 years, yesterday made no apologies for frontfooting the issue.
"This is tough stuff and what defines leadership," he said.
The discussion paper, which includes options for tolling new roads, regionwide tolls, a regional fuel tax, higher parking charges, raising rates and an airport departure tax, is part of Mr Brown's first 10-year budget that is also getting a rocky ride through the council.
Several Citizens & Ratepayers councillors - Christine Fletcher, Dick Quax and George Wood - and independent Orakei councillor Cameron Brewer are alarmed at the figures in the draft budget, such as debt rising to $8.4 billion and 25 per cent of rates going to fund a $520 million interest bill after 10 years.
But none of these councillors have put up any constructive suggestions to reduce expenditure and have waved through costly projects, such as a $500 million computer system that involves consultants being paid up to $3400 a day.
Another thorny budget issue facing the council - providing funding to advance Maori issues - was deferred by the committee after Mr Brown called for "time and patience".
THE OPTIONS
What's in
* Raising rates.
* Targeted rates.
* Development contributions.
* Tax on increase in property values from transport services.
* Regional fuel tax.
* Tolling new roads.
* Tolling existing roads.
* Higher carparking charges.
* Bed tax for hotels/motels.
* Airport departure tax.
What's out
* Regional income tax.
* Regional GST.
* Regional payroll tax.
* Asset sales.