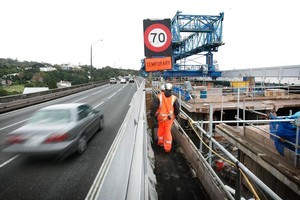 Transport Agency contractors welcomed the rain early yesterday, while "stitching" together two new carriageways on Auckland's replacement Newmarket Viaduct in time for full traffic to resume before noon.
The viaduct's busy southbound carriageway, on which three of its four lanes were closed from 6pm on Saturday, was back to full capacity by 10am - two hours earlier than scheduled.
That followed a pour of 32 truckloads of concrete on to reinforcing steel to fill a 1.1-metre gap along the 690m length of the viaduct, between its new southbound and northbound carriageways.
The agency said yesterday that rain which began on Saturday night and continued yesterday was no problem given a high concentration of cement in the concrete mix, and helped it to set by keeping it cool.
Agency northern region highways manager Tommy Parker praised drivers for their co-operation, but warned them of an even bigger operation over Auckland Anniversary Weekend at the end of January, when all northbound lanes will close for up to 36 hours.
The next closure will be needed to switch traffic from the existing northbound carriageway to the new structure involved in the latest weekend operation, which now forms the second half of a $215 million replacement viaduct.
Traffic was slow through the Newmarket section of the Southern Motorway early on Saturday night, queuing back to Spaghetti Junction to squeeze through the only southbound lane left open on the viaduct.
But although few drivers appeared to take the option of using a diversionary route through Broadway, by leaving the motorway at Gillies Ave and rejoining it at St Marks Rd, the agency said traffic flowed smoothly once the early evening rush was over.
Even so, it faces a big challenge trying to persuade many more drivers to avoid the viaduct at the end of January, when diversionary routes will be the only option.
Weeks of publicity in traditional and social media under a $100,000 budget helped to slash traffic through Newmarket by 80 per cent when all southbound lanes were closed for 19 hours in September last year.
That was to allow a switch of lanes from the viaduct's original southbound carriageway, which has since been demolished, to the new structure now used daily by 80,000 vehicles.
The new northbound carriageway has been built in the gap left from the demolition, and the structure which it will replace will be removed next year in the final phase of the viaduct replacement project.
That will leave the new viaduct 17m further west than the structures it is replacing, which were built in 1965 and came to be regarded as the seismically weakest link on Auckland's motorway network.