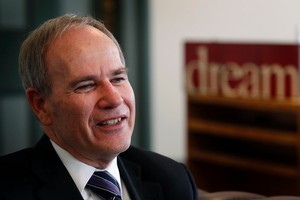 Aucklanders are facing an increase in fees for resource and buildings consents.
Mayor Len Brown is proposing increases of between 6 and 10 per cent in next year's budget, leading to hourly rates of up to $170 for processing consents.
The higher fees are projected to cost residents, developers and the business community $8 million as the council looks to recover 90 per cent of the $44 million annual cost of delivering consents with a private benefit.
The new fees have not impressed councillors Mike Lee and George Wood, who are concerned about the rising costs and their effect on the council's commitment to affordable housing in the Auckland Plan - a 30-year blueprint for the city.
Mr Wood said: "This is one area where the Auckland Council has got to find ways to reduce costs. The cost of building is just going to keep escalating."
Mr Lee said going from eight different consenting bodies to one should have led to economies.
Council chief executive Doug McKay said the agency that set up the Super City did little analysis when it standardised the fees at the lowest cost of the previous eight councils as a point of principle.
In May last year, the Auckland Transition Agency said the Super City would reduce resource and building consent costs and provide better customer service.
The agency said analysis suggested that the reduction in revenue from the lower fees would be offset over time by Super City costs savings, including management costs, the use of consultants and contractors, legal costs and other operational expenditure.
Mr McKay, who found $81 million of savings in the budget to help Mr Brown deliver a 3.94 per cent rates rise this year, said officers now had a better idea of the cost of processing consents and had taken a principled position on the level of cost recovery.
Mr McKay said feedback from developers and also also households, was that a quick turnaround of resource and building consents was more important than cost.
A delay of one month on a big project could cost a developer a lot of money, he said.
Mr McKay said progress had been made on improving service, and 98 per cent of resource consents were now being approved within the statutory timeframe of 20 working days, compared with the average of 89 per cent under the previous councils.
For building consents the figure had gone from 92 per cent to 95 per cent.
A fast-track process had been initiated to process simple resource consents within 15 working days.
Property Council chief executive Connal Townsend said fee rises of 6 per cent to 10 per cent were a little disturbing, particularly when the Auckland Plan had ambitious goalsof 300,000 to 400,000 new housingunits.
But there were other factors at play of concern to the property sector that had not been confirmed, he said, such as the new rating system, business differentials, targeted rates and the level of development contributions.
Mr Townsend agreed with Mr McKay's comments about the time it took to deliver consents vis a vis costs.
"This is not to say we are unconcerned about the level of fees and charges, he said, "but timing for consents is absolutely critical."