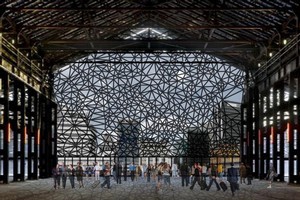 Auckland Mayor Len Brown is signing up ratepayers to pay for a cruise ship terminal which has risen in cost from $6 million in June to $28.7 million.
In June, Mr Brown said converting Shed 10 on Queens Wharf into a terminal would be nothing extravagant, costing $6 million, but now a further $22.7 million is being put up so architects can improve the design.
Ratepayers have already paid $4 million to do up the century-old Shed 10, which was included in Mr Brown's $6 million costings in June.
The council's waterfront agency - with the blessing of Mr Brown - is seeking expressions of interests from architects to design the terminal before the public has a say on funding for the project in the mayor's long-term budget.
The budget contains double-digit rates and water bill increases for thousands of Auckland households as a consequence of creating a single rating system from next year.
Mr Brown, who made a unilateral decision in June to build a cruise ship terminal on Queens Wharf without consulting Aucklanders, has come under attack from a group of seven councillors for a lack of accountability and imposing crippling costs on low-income people to pay for his ambitious plans.
Yesterday, a spokesman for Mr Brown said the $6 million figure referred to short-term work to bring Shed 10 up to an acceptable standard for the cruise ship industry.
The $24.7 million was for "modest, medium-term improvements", such as refurbishing the upper level, providing stairs and lift facilities, improved shelter at the southern end and building a 110m concourse on the eastern side of Shed 10.
A report last year by economic forecasters Covec said the industry had a clear preference for a functional cruise ship facility on Queens Wharf that could be built for $6 million to $10 million.
Another report by PricewaterhouseCoopers said spending more on a functional terminal would not give significant extra benefits to the industry.
Cruise New Zealand chief executive Craig Harris said the industry just wanted a functional terminal for passengers and crew to come and go.
He said the industry needed 6000sq m but would have to live with the 4000sq m Shed 10.
Despite the squeeze, he said, the industry was over the moon at the prospect of a terminal on Queens Wharf in time for the 2012-2013 season, after having to make do with the compromised services on Princes Wharf.
The Auckland Council and the Government have still to decide the future of the Cloud on Queens Wharf.