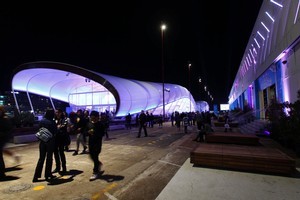 The Cloud structure on Auckland's Queens Wharf is likely to become a permanent feature of the waterfront after capturing the heart of one of the city's most influential bureaucrats.
Waterfront Auckland chairman Bob Harvey is leading the charge to keep the $9.8 million temporary structure in Auckland after the Rugby World Cup where it has been the central hub during the tournament.
"All the parties [involved in deciding the Cloud's future] are sitting around saying, 'How can we make it work?', no one is saying, 'How can we get rid of it?'."
A meeting between the Government, Waterfront Auckland and Auckland Council had been planned for next week to discuss possible uses for the 180m building, which Harvey said were "unlimited".
"We are all going to sit down and work out what it's going to cost to keep it and what we're going to do with it if we keep it."
He said sending the structure to earthquake-stricken Christchurch had been suggested but was impractical.
Harvey said any criticism of the building - some in the media referred to it as "the slug" or "the worm" - had been offset during the Rugby World Cup by glowing public feedback.
"There was this idea that it was going to be a swill, a circus, just a booze bar, but it hasn't been like that at all," he said.
"People have been so well behaved and still had fun there, which I think shows how much we've grown up as a nation."
Auckland Mayor Len Brown said the Cloud had been a great success during the World Cup but he did not wish to comment until formal discussions had taken place.
"Even though it's supposedly a temporary structure, it's not as though it's built of completely impermanent material. It could stay there for a long time if that's what the decision is, but we haven't really turned our minds to that at this point."
Brown said no viable alternative uses for the Cloud had been put forward.
The Cloud could accommodate up to 6000 people and was expected to be packed when the All Blacks take on the Wallabies for their semifinal at Eden Park tonight.
- APNZ