Locals feel real pride at NZ scenes that sparked non-stop questions from Queen.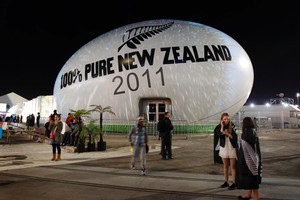 More than 100,000 people have been kicked, licked and hurled in the giant rugby ball's virtual tour of New Zealand.
The ball, sitting on Queens Wharf, projects video across its inner surface, a panoramic screen that wraps around up to 220 viewers.
Visual effects send the ball seemingly flying through the air, sinking into the earth, driving along New Zealand roads and being tossed between Kiwi kids - as you look out from within.
Queens Wharf has seen long queues and full crowds for the rugby ball, leading to its opening hours being extended at weekends.
"New Zealanders love to see how we were portrayed to the world," said Real New Zealand festival director Briony Ellis.
"People I've spoken to have been so impressed and a little tugged at the throat.
They have a sense of real pride."
The ball toured the world to promote the Rugby World Cup, stopping off at London, Tokyo, Sydney and under the Eiffel Tower in Paris.
At each location it presented scenes of unmistakably Kiwi culture and scenery, building up to the All Blacks surrounding viewers on all sides to perform an intense haka.
A pukeko blown up to giant proportions pecks and cracks the screen, and a dog clenches its slobbery jaws around the ball - a picture of its pink throat filling up half the dome.
The ball feels as if it is actually in motion as it sinks from a verdant forest into the earth for a tour of Maori mythology.
At Queens Wharf, the 10-minute presentations are preceded by footage of the cities around the world that the ball travelled through before coming home to New Zealand.
Colleen Woolf yesterday brought her friend, Deb Koia, up from Rotorua just to see the presentation.
Ms Koia says she is now determined to bring her entire family up for the experience.
"It's fantastic. It portrays New Zealand in such a good light," she said.
A group of children from Manurewa Intermediate cheered through the presentation and later told the Herald in a chorus: "It was mean!"
NZ 2011 director Leon Grice said the Kiwi technology and creativity behind the presentation showed that New Zealand was far more than empty scenery.
"Four years on it's still cutting edge. It's amazing," he said.
And the giant rugby ball was iconic in appearance - all contributing to "the best fan zone ever for the Rugby World Cup", he said.
The team running the giant rugby ball said Queen Elizabeth had loved the presentation when she saw it in London, asking questions non-stop about it.
The future of the ball is being contemplated and a sale is understood to be possible - a Georgian delegation is said to have shown keen interest earlier this week.