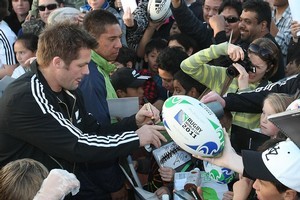 World Cup fever is sweeping Auckland - restaurants turned hundreds away at the new-look waterfront yesterday, while more than 1000 fans swamped the All Blacks at a public session last night.
Maitre d's turned away customer upon customer from packed restaurants at Wynyard Quarter, while other people were content to stroll along the water's edge in sporadic sunshine.
Keen rugby fans Karen and Jim McGiffen were checking out the area's $120 million redevelopment for the first time and said it felt as though the World Cup had finally arrived.
"I think we've got something to be proud of here," Mrs McGiffen said. "This is a once-in-a-lifetime experience for us all. And now this last week, everyone's starting to get psyched up, we're building up, it's happening. A week today, it's going to be full-on."
The couple attended the welcome for the All Blacks on Saturday and said they planned to visit the fanzones and busier areas around Auckland during the tournament.
"I think you've got to do that," Mr McGiffen said. "It's seven weeks of soaking everything up. We won't see it here for a good few years, maybe not again in our lifetime."
More than 1000 fans turned out to meet the full All Blacks squad in Pakuranga last night.
The team were given a taste of the public's growing excitement - and expectation - as fans mobbed their heroes in chaotic scenes.
The event followed the official welcome in Aotea Square on Saturday and visits by players to 11 small towns across the country on Friday.
The "Stand in Black" fan day at Pakuranga Rugby Club will be followed by similar events in Christchurch and Wellington this month.
Back at Wynyard Quarter, barrister Geoffrey McDonald - in his Wallabies jersey - was over from Sydney for the weekend and said the area had a "great buzz".
"I think everyone is conscious of how they're going to go when they put on a big event, but it's looking good. The facilities look really good."
Mr McDonald said he had travelled extensively and Auckland's waterfront area was world-class - and a lingering hangover was evidence the Viaduct's nightlife was up to scratch too.
Daniel Herran and his son Federico were sharing a special Father's Day, having flown in from Buenos Aires only hours earlier.
The pair have attended two previous World Cups together and will visit Wellington, Rotorua, Hamilton and Dunedin during their 17-day trip.
Both wore the distinctive blue and white striped jerseys of Argentina, and said they were determined to make their support count.
But while Wynyard Quarter has received largely rave reviews, the same cannot be said for some of its restaurants and cafes.
Herald on Sunday critic Peter Calder was told the kitchen at gastropub Jack Tar was closed at 4.30pm on a Sunday, and was scathing of the food at tapas restaurant Pescado.
"If this is what we are offering diners ... we might as well put up a sign at the airport saying 'Country Closed Owing To Lack of Interest'," he wrote yesterday.
One patron of The Conservatory bar and restaurant spoke of poor service and planning.
"We got there to find people balancing huge plates of eggs and sausages on their laps because the tables inside the 'restaurant' weren't actually dining tables. We waited 20 minutes for a coffee and longer for our meal.
"The table next to us had been waiting longer still and when their waiter finally turned up he admitted the food on the plates was potluck as he couldn't track down the original order.
"Our food wasn't bad, I guess, and at least we got what we ordered."
Another diner, who asked not to be named, went to a cafe at the fish market and was asked: "Will you need a knife because we haven't got any left?"
When told a knife was required, the waiter said he would "see what he could do".