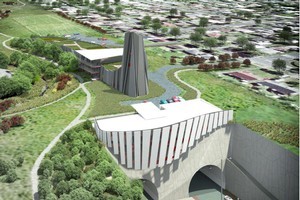 Contractors always want to get out of the blocks quick and in my experience they are always slightly optimistic. Tommy Parker, Transport Agency
Preferred contractors for New Zealand's largest roading project, Auckland's $1 billion-plus Waterview motorway, will be named today although it will be months before any progress is seen.
The Transport Agency will announce which of two contracting alliances which will fill the final link in the region's 48km western ring route.
Each of the teams, one led by Fletcher Construction and the other by Leighton Contractors of Australia in association with local firm Fulton Hogan, has had about 150 designers and engineers preparing plans since November for the half-tunnelled motorway.
But the agency said yesterday that it had to tailor proposed programmes for the first financial year of the project to a funding limit of $60 million, while heavy boring equipment was ordered from overseas for a pair of motorway tunnels.
The agency's northern highways manager, Tommy Parker, said the initial funding instalment would be enough for the successful team to make a good start on the project from before Christmas.
He said construction was likely to start in November, meaning the money would cover about seven months of activity until the end of the financial year on June 30.
"So that's about $10 million a month, or $2.5 million a week - I'm comfortable that will meet the programme and we are on course to complete the project by 2016, which is our target date," Mr Parker said.
He said final bids for the work were delayed by a week while the contracting alliances reorganised proposed programmes to fit thebudget.
"Contractors always want to get out of the blocks quick and in my experience they are always slightly optimistic," he said.
"We've allocated sufficient money to make a record start, more than spent on any other contract."
Council for Infrastructure Development chief executive Stephen Selwood said it was great to see a Government-appointed board of inquiry complete resource consents under new fast-track planning rules within 10 months.
But is was "disappointing that cash-flow issues might prevent an early start on what is universally agreed is an essential project for the region and the signature project in the roads of national significance".
Contractors Federation chief Jeremy Sole said early completions of other big ring route projects - the $230 million duplicate Manukau Harbour crossing and the Hobsonville motorway sections - had put pressure on cashflow.
But he welcomed that as a reflection of new efficiencies in the road-building industry.
"It demonstrates that we have an industry that is maturing and improving, and becoming more productive," he said.
Mr Parker said it would be several weeks before negotiations with the preferred contracting alliances were completed, ready for a contract to be signed.