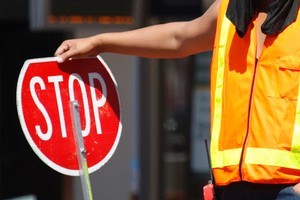 Motorways will be partially closed in several places over the next few days to allow for road works.
The closures start in Mt Roskill tonight, and will include routes to the airport and the harbour bridge.
Commuters also face further disruption as passenger trains are phased out of action across Auckland for the weekend, from 8pm tonight, so a new signals system can be turned on.
The Transport Agency will close the end of the Southwestern Motorway west of Dominion Rd for the weekend, starting after this evening's travel peak, as part of its four-week construction of a new interchange needed for the $1.85 billion Waterview connection project.
George Bolt Drive - the State Highway 20A route to the airport - will be partially closed over four nights from Sunday while it is resurfaced.
Its city-bound lanes will close on Sunday and Monday nights between Montgomerie Rd and New Ihumatao Rd, meaning traffic will have to detour to the west, along Airpark Drive. The airport-bound link from the city between the Southwestern Motorway and George Bolt Drive will also be closed on Monday night.
Airpark Drive will remain a detour route on Tuesday and Wednesday nights, but only for traffic going to the airport, as George Bolt Drive's city-bound lanes will be available.
Partial closures will also affect State Highway 1 through St Marys Bay from Thursday, when a crane will lift into place - in sections - the framework of a new footbridge in the $406 million Victoria Park motorway tunnel project.
The 102m covered bridge will from next year link the St Marys Bay residential area and the waterfront.
The bridge will connect at its landward end to the Jacobs Ladder staircase in St Mary's Bay and will lead to a new walkway beside the motorway to Beaumont St.
To make up for the loss of trains over the weekend, buses will follow railway routes until Sunday.
Rugby league fans are being encouraged to use the buses to reach Mt Smart Stadium for the Warriors game against the Canberra Raiders at 2pm on Sunday.
Buses will also replace the first two early-morning trains from Otahuhu to Britomart on Monday.
Freight trains will stop for 36 hours from midday tomorrow until midnight on Sunday.
The work, under a $90 million re-signalling contract within the $500 million rail electrification project, will also cover the reinstatement of Auckland's old central station at the Strand as an emergency back-up to Britomart for Rugby World Cup trains.
ON THE WEB