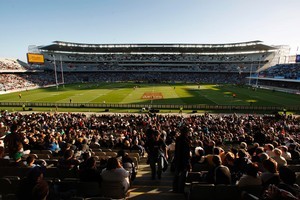 Emergency powers created for the Rugby World Cup are being used to secure last-minute corporate parking on school grounds near Eden Park, and to realign the stadium's temporary stands to be served by portaloos.
Residents near Eden Park say the emergency measures are overriding their rights, and reverse original conditions of consent.
An application to the Rugby World Cup Authority, a statutory body set up to grant permits in time for the tournament, seeks 100 parking spaces for World Cup "stakeholders" such as the Emirates airline.
They would be put inside public road closures to be set up around Eden Park, on the grounds of Kowhai Intermediate School. A similar application was earlier made through the resource management process - but stalled after public submissions.
The proposal has been expanded before the special authority to allow car parking on Kowhai Intermediate School's grounds even on non-match days.
The school will be paid for the arrangement, and will close during the opening match day on September 9.
The authority was set up under the Rugby World Cup 2011 Empowering Act to push through permits in urgency.
It has received 26 applications, ranging from extended liquor licences for stadiums and cruise ships to changes in the layout of Eden Park's entrances.
In a recent application, Eden Park has sought permission to operate for 24 hours during the 11 days before opening night.
This would allow the stadium to use its lights and sound system at all hours of the night to hold limited rehearsals.
In the same application, the stadium also revealed plans to set up entrances for its temporary stands that are separate from its main concourses as had been originally consented.
Fans seated in the temporary East Stands will be served by portaloos and food stalls on the footpaths of Cricket Ave, a residential street.
Eden Park Neighbours Association president Mark Donnelly said residents had little hope of altering applications before the new authority.
They hoped only to be given some consideration and that the tournament would soon be over, he said.
"It's amazing that these things come out this late, after we've been through all the consents. Everyone knows they're going to be rubberstamped," Mr Donnelly said.
"We've lost our rights - the Empowering Act overrides everything."
Families in the areas would be kept awake as people from companies allowed to park nearby left their post-match hospitality.
"It's interesting that a sponsor gets in there - apparently, they're above taking public transport," Mr Donnelly said.