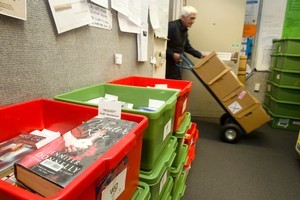 The Super City's library policy of "borrow anywhere, return anywhere" has proved so popular that a robot sorter may be enlisted to ease the strain of meeting demand.
Requests for books to be sent among the region's 55 libraries have shot up 29 per cent since the November 1 merger of seven councils and their library operations.
The number of requests was 108,000 a month and is now 154,000, said Auckland council libraries and information manager Allison Dobbie.
By year's end about 4.5 million items will have been transported around the greater city.
It calls for a lot of toting round of boxes - and bestsellers resting in vans instead of on bedside tables.
Before the merger, customer surveys showed frustration at not being able to borrow from libraries beyond their local council boundary and home area.
Some paid membership or request fees to get books unavailable from their local library.
The blending of seven councils' separate library operations on November 1 was hailed by Local Government Minister Rodney Hide as a tangible and immediate benefit of the Super City merger.
It meant residents could use their existing library card at each of the region's 55 libraries and four mobile libraries from Wellsford to Waiuku.
They had free access to a treasure trove of 3.5 million books, CDs, DVDs, language collections and audio books as well as on-line information and data bases.
"Uptake of this offer from November 1 has been much greater than anticipated," said Ms Dobbie.
The demand for the service has posed significant challenges in materials management, she said.
In the first seven months of operation, about 2.6 million items had been transported around the city and this would grow to 4.5 million items for the first year. Auckland's system relied on a complex arrangement of pick-up and drop-off points around the region and staff manually processed material at each library.
Items were transported by local and regional couriers.
Health and safety problems had arisen because staff were processing 77 per cent more material.
"Processing areas in libraries that were designed to deal only with items moving between local branches are, at times, unable to safely handle the large number of boxes transiting through them."
An extra 35 temporary staff were hired to support the service as an interim measure.
This was not sustainable in the long term.
It would cost $2 million for the year, including $750,000 for couriers and $1.2 million for extra staff.
Ms Dobbie said planned system improvements would cost $2.2 million.
Some of this could be offset by introducing a "holds" fee when a customer requested an item from the catalogue.
Present management system technology would have to be boosted to allow collection of this fee or otherwise it would cost more to collect than the revenue gained.
It was also planned to extend the "radio frequency identification" system to all libraries.
This security measure would cost $2.6 million but would enable more than the present 55 per cent of customers to self-issue items and free staff from transactions.
The system would also enable the introduction of automated sorting, in about five years.
Many library systems, which had fewer book issues and smaller stocks, had automated materials and handling and sorting systems.
A move to automation would have to be approved after public con-sultation on the 2015-16 long term plan.
A council people's panel survey from March to May showed that 58 per cent of 1809 respondents had requested an item since November 1.
The survey showed 35 per cent of respondents requested between one and five items, 8 per cent six to 10 items, 3 per cent 11 to 20 items and 1 per cent 21 to 30 items.
BY THE BOOKS
* 2.625 million transported in 7 months.
* Requests up 29 per cent a month since November 1.
* Staff to manually process 4.5m a year.
* Courier bill $750,000.
* Extra staff $1.2 million.