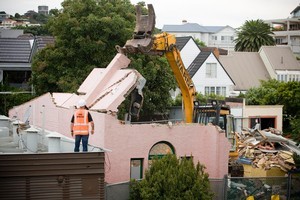 A new $10.3 million fund established by the Auckland Council to buy, restore and sell heritage buildings has attracted interest from three building owners.
The council has put $10.3 million into a Built Heritage Protection Fund this financial year, and plans to boost the fund by $4.6 million a year.
The fund could grow between $30 million and $40 million.
Council heritage manager Noel Reardon said three building owners had expressed an interest in selling old buildings to the council.
One complied with the fund's criteria and two complied with part of the criteria.
Mr Reardon would not give details of the buildings, except to say they were in the old Auckland City Council area.The January demolition of seven old buildings in St Heliers, followed by revelations that council planners did not tell heritage colleagues about a development next to a listed heritage building at Green Lane Hospital, has prompted Mayor Len Brown and councillors to do more to prevent the destruction of heritage buildings.
As well as the heritage protection fund, the council is setting up a heritage advisory panel, developing a heritage plan and planning to tighten heritage protection rules in a new unitary plan for Auckland.
The heritage protection fund is based on a scheme used in Australia, Britain and the United States where a pool of money is used for heritage conservation of "at risk", low-return heritage properties where owners are unwilling or unable to invest in them.
Yesterday, the council's strategy and finance committee approved criteria for the fund, including the features, significance and heritage value of buildings, the level of threat from demolition, neglect and other factors, and financial considerations.
Only buildings that can reach regulatory standards, such as earthquake-strengthening requirements, can be sold with heritage protection and/or legal covenants, and can be bought, restored and sold within a defined period will qualify for the fund.
Parks, recreation and heritage forum chairwoman Sandra Coney was happy with the criteria "given that it's not a bottomless pit and there is a lot of heritage out there".
Mr Reardon said the fund was a last resort to preserve heritage buildings.
Ms Coney said the fund was part of a suite of tools to protect heritage, including improving district plan rules "because that is where we are being tripped up most at the moment".
She said there had been huge interest from people wanting to sit on a new heritage advisory panel.
Nominations close on July 24.
HERITAGE STEPS
* Criteria for $10.3m heritage fund approved.
* Nominations for heritage advisory panel pour in.
* Tighter heritage protection rules still to come.