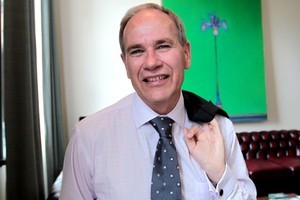 The Auckland Council is delighted that it is holding the rates increase to 3.94 per cent this year, but divided on having to put $3.26 million in the budget for the Maori Statutory Board.
There was much back-slapping by the council's left and right factions yesterday at keeping the increase below 4 per cent in a time of big change and economic hardship, with credit showered on Mayor Len Brown, chief executive Doug McKay and chief financial officer Andrew McKenzie.
After inheriting a projected rates rise of 9.2 per cent, Mr Brown and officers found $81 million of savings without compromising services and money for new projects.

Among money for new projects are an extra $1.9 million to attract major events to the city, progress on a new swimming pool at Otahuhu and $1 million of improvements to the Muriwai Surf Lifesaving Club facilities.
But some councillors were not happy at having to pay $3.26 million to fund the nine-person Maori Statutory Board - not much less than the indicative $3.4 million budget that caused a public uproar in February.
The $3.26 million budget includes $1.94 million of new money and $1.32 million from existing council budgets.
In April, the council approved $1.76 million to fund the board for the remaining eight months of the 2010-2011 financial year.
The council had no choice but to fund the board, which was set up under Government Super City legislation.
Orakei councillor Cameron Brewer said the $3.26 million budget was nowhere near the public's expectation of value for money for the board.
The budget, he said, contained $390,000 for external advisers, including $70,000 for legal costs and $20,000 for governance costs.
Mr McKay said there were a lot of unknowns with the legislation. It had been quite difficult negotiating a budget with the board.
Mr Brewer, who voted with councillors Calum Penrose, Sharon Stewart and Sir John Walker against the budget for the Maori board, was the only councillor to vote against the full budget package.
He said the budget was a good document, but "steady as she goes" and not a major step change.
Mr Brown said that with the council just eight months old, it had a budget that delivered to the people of Auckland.
Citizens & Ratepayers leader Christine Fletcher, whose ticket pushed to hold rates below 4 per cent when it looked like Mr Brown's first budget would result in a 4.9 per cent rates rise, congratulated the mayor.
"I'm really delighted we are able to find a point that is common to us all, irrespective of where we stand on the political spectrum," she said.
Said councillor Cathy Casey: "Everyone has got something from this budget."
The council also voted yesterday to endorse the inner-city rail loop as the number one transport project for Auckland and to give $2 million to Auckland Transport so it can proceed with a designation and further investigations.
TIMES TO PAY
* August 30.
* November 29.
* February 28.
* May 30.