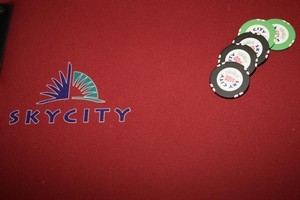 Aucklanders should not sell their souls to SkyCity casino to build the country's largest convention centre, says Auckland councillor Christine Fletcher.
The Citizens & Ratepayers leader and former Auckland City mayor says negotiations between the Government and SkyCity to build a $350 million convention centre in exchange for extending its licence beyond 2021 and more gaming tables and poker machines would create more misery for problem gamblers and children.
Mrs Fletcher was speaking at a council debate yesterday on the proposal for an international-sized convention centre in Auckland which has been promoted by Prime Minister John Key and Auckland Mayor Len Brown as a jobs and tourism boost for the city.
Mr Brown, who as Mayor of Manukau City fought for a sinking lid on the number of poker machines in South Auckland, looked uncomfortable at the first council airing of the proposal.
After previously congratulating SkyCity on the quality of its proposal, Mr Brown yesterday said he had never formally or informally supported SkyCity or the other four bidders in the running to build a convention centre.
"I sure as hell want to see a convention centre in Auckland and see it as being one of the most critical things for us becoming a destination and not a gateway," Mr Brown said.
The mayor urged councillors to take a "deep breath" and not support calls from councillors Cathy Casey and George Wood for a report on the likely social and economic impact of more gaming tables and poker machines at the casino, and figures on SkyCity's grants to charities.
Mr Brown's view - shared by a majority of councillors - was not to make a kneejerk reaction, but follow the process of the Government negotiating the terms of any deal with SkyCity and the council preparing a submission on alterations to gambling legislation and regulations.
Mrs Fletcher said the council had a responsibility as policymakers to protect citizens and look at other ways to fund a convention centre.
"It is going to be far more affordable for the people of Auckland to fund their own convention centre than sell their souls to SkyCity," she said.
Problem Gambling Foundation chief executive Graeme Ramsey told the council that SkyCity had more than 1600 poker machines and was actively looking to increase revenue.