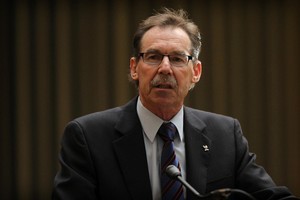 The focus on a compact city is flawed and leaves many Aucklanders out of the housing market, Auckland councillor Dick Quax said in his maiden speech.
"It will be no surprise to you that I support a more dispersed urban form than is being promoted," said the former Olympic runner, who won an Auckland Council seat last month in the Howick ward byelection to replace councillor Jami-Lee Ross, who is now a National MP.
Mr Quax, on the Citizens & Ratepayers ticket, told the council last week that the city faced huge challenges over the next 30 years when the population would increase by about 650,000.
That meant about 300,000 new houses had to be built.
"However, there is a projected shortfall of 90,000 homes. More land and supporting infrastructure will be needed if the goal to unleash Auckland is to be realised."
He said too many Aucklanders had no stake in the region or their community, were shut out of the housing market and would be renters for the rest of their lives.
The compact city model - an integral part of the Auckland Plan being drawn up by the council - was flawed, and not just in terms of housing unaffordability.
It would lead to more congestion, pollution, pressure on ageing infrastructure, increased crime and a loss of sense of community, he said.
Mr Quax, who was born in the Netherlands, said it was a great privilege to represent a ward where 48 per cent of residents were born overseas, and a third came from Asia.