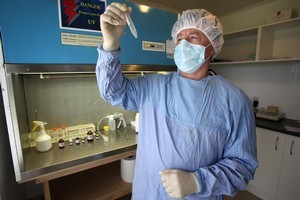 The owners of desexed dogs in the old Manukau City Council area are having difficulty registering their animals in the Super City.
Veterinary clinics have been inundated with people asking for written proof their dogs have been neutered after the Auckland Council told them to pay a higher registration fee.
Yesterday, the council backed down on the demand, saying it would accept the word of dog owners to qualify for a lower fee.
Southern licensing manager Ian Milnes said the problem was the result of the old Manukau council not basing its fees on whether a dog had been desexed, which meant the information was not necessarily in the new council system.
When demands went out for dog registration fees last week, owners flooded vets asking for written proof.
Bucklands Beach Veterinary Hospital said it had about 40 inquiries and Howick Veterinary Clinic had a similar number.
Highland Park resident Sandra Turner received a demand last Thursday to pay $107 because the council claimed she did not have a dog licence, her kelpie-cross was unneutered and it was first registered in 2000. She said her dog was first registered, desexed and licensed in 1998 and qualified for a $47 fee.
Ms Turner was annoyed at being told she would have to provide proof of her dog being desexed and go into the council offices to sort the issue out.
"There will be a lot of irate people like myself who do the right thing by registering their dogs, keep them in their premises and not wandering the streets, and we are now getting penalised by the so-called Super City."
Mr Milnes said there were between 20,000 and 22,000 dogs in the old Manukau City Council area.
He said the council had acted quickly after receiving complaints from vets and would accept a signed declaration from owners on their registration forms that their dog had been desexed. Providing false information could lead to a fine of up to $3000.
REGISTERING DOGS
* Between 20,000 and 22,000 dogs in the fee mix-up.
* Owners told to provide written proof of dogs being desexed.
* Council backs down and now accepts word of dog owners.
* Owners of desexed dogs were being charged up to $107.
* Fees for desexed dogs can be as low as $47.