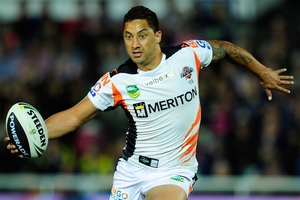 When the Blues did their research on Benji Marshall, they were sure they had their man.
Not sure of his signature but certain he wanted to cross codes, he ticked all the boxes as a professional athlete. Marshall wanted to succeed, - this was no end-of-career stunt or a way of topping up his bank balance after failing to come to terms with the Wests Tigers in the NRL.
Employers and sports organisations talk about doing due diligence in their business and the Blues were sure they had found a nugget in that assessment of Marshall.
He fitted the profile of someone the Blues wanted and, as a bonus, he was very aware of the commercial activities around sport which he had inhaled in a lengthy stint living and playing in Sydney.
During that time he had watched the All Blacks when they trained at Leichhardt Oval and through a connection the All Blacks and Blues skills and forwards coach Mick Byrne got yarning with Marshall.
It was mostly about league and the pair's experience of living in Sydney.
The pair met again in August when the All Blacks were back for the start of the Rugby Championship.
The visitors were at their Homebush hotel at Stadium Australia and Marshall was helping with wheelchair sport at the adjacent Olympic complex. It was not long after the Blues and Marshall had agreed terms.
Byrne ambled over and got chatting about rugby and what life was like in Auckland. He offered his help and did so again this week when they had a brief catch-up before Byrne leaves for his All Blacks commitments in Europe.
The coaching manual is not extensive. Deliberately so.
"Benji is a professional athlete and he understands about life at the top and what you need to do to stay there," Byrne said.
"All I did was give him a few projects to help him with his game. It was fairly basic stuff but if he gets into those things he will create good habits by the time the Blues get together.
"I've spoken to people like Laurie Daley and he is certain Benji has the attitude and plenty of upside left in his game."
Marshall will not lack for specialist advice about reconnecting with a game in which he represented New Zealand at age-group level before heading across the Ditch.
When he needs technical advice on how rugby works their defensive schemes and ways to break them down, he will turn to Graham Henry while John Kirwan, Grant Doorey and Byrne have all had experience playing league.
Training ground games and pre-season trials will give Marshall an idea about rugby's rhythms and the different cadences from his five tackle, kick career. In league the sides are separated at each play by 10 metres while that gap is much narrower in multiple rugby phases.
Marshall's energy and skills offer him a variety of backline roles but somewhere in the back field looms as a good place to start. From there, Marshall will scan the field to see tactics developing and also use his kicking game or inventive instincts in supplementary attacking waves.
He may hanker to play five-eighths but that transition will be tougher. Chris Noakes and Baden Kerr started this year and will be on the roster again to build on that experience around Piri Weepu, Ma'a Nonu and Francis Saili.
For a time another convert, Mat Rogers, was tried at five-eighths by the Wallabies. He had some success but struggled to unravel defences with his distribution and tactical mix.
He was more dangerous and looked at ease with a bit of licence and space on the wing or at fullback.
The Blues will have a group of interchangeable backs with Charles Piutau, Saili, Nonu and Jackson Willison able to play in a variety of roles and, eventually, Marshall will be asked to offer that creativity.
For now, though, the Blues and Marshall are content to get in some pre-Christmas training before they start refining those duties.