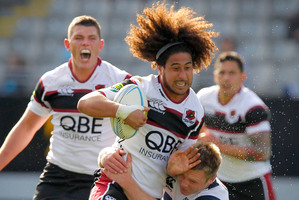 Recognised as the country's chronic under-performer for more than a decade, North Harbour could be the big winner in the Super Rugby revamp.
If there is to be a sixth New Zealand franchise from 2016 - and in most scenarios being explored, it is likely - Auckland's North Shore is the short-odds favourite to win the hosting rights.
New Zealand's rugby public will no doubt be miffed, unsure whether the region is genuinely deserving of an asset that will inevitably boost the profile of the game on the North Shore, flood the local scene with sponsors and income, boost playing numbers and generally lift the profile and interest levels in rugby.
The likes of Taranaki and Hawke's Bay in particular have made previous and bold attempts to be Super Rugby bases.
Both have invested heavily in their infrastructure, talent identification programmes, academies, coaching and player development.
Both, in the past five years, have enjoyed relative levels of success, having reached the Premiership play-offs while enjoying brief stints as Ranfurly Shield holders.
They have hosted World Cup games, New Plymouth has been a June venue for the All Blacks and both regions have produced numerous Super Rugby players.
In 2009, Taranaki made a strong bid to host the fifth Australian side but lost out to Melbourne, while Hawke's Bay withdrew their application after early feedback that Victoria was the odds on favourite.
"Yes, we would be interested," says Hawke's Bay chief executive Mike Bishop at the prospect of bidding for hosting rights, should the sixth team be approved.
"That hasn't changed. I would imagine that financial sustainability will be one of the keys. So too will be having an engaged and supportive rugby populous. I don't think there is any doubt that we could tick all of the boxes should this [sixth team] come to fruition."
Hawke's Bay have been one of the great success stories following the provincial restructuring in 2006 which saw the elite level of the provincial game expanded to 14 teams.
Their case to host a new team would be compelling.
Taranaki have been another major improver on all fronts but their future is unclear given their efforts to invest in the Chiefs and be aligned with the champions.
How much any of this will matter if, and most likely when, a tender process is opened - possibly as early as next year - is a point of some debate.
Harbour, despite their provincial side being a basket case for the past five seasons, will inevitably be hard for the New Zealand Rugby Union to reject.
Auckland is a perennial source of concern and potential opportunity for the national body; it is a challenge that cannot be ignored or taken lightly.
Like it or lump it, New Zealand rugby needs Auckland to be strong in terms of player base, fan engagement and commercial support.
The NZRU has gone so far as to make the region a strategic priority. Research is under way on several fronts to determine how best to improve participation rates, keep players involved until adulthood, engage all ethnicities, build bigger fan bases and win new financial backers.
Auckland is the commercial epicentre of the country and with the population of the greater region forecast to hit two million in the next 10 years, there is ample capacity for the city to host a second team.
North Harbour Stadium could be vastly improved - a retractable roof and 10,000 extra seats added - for $40 million. The Millennium Centre provides sports science functions, several major businesses are based in the vicinity and there is direct access for international sides through Auckland Airport.
The playing number statistics add further weight to their case. Harbour has the third largest number of junior players in the country but only the seventh highest of seniors, suggesting teenage drop-out is a major issue.
Would the presence of a top-flight, professional side help address that? Would more young players be persuaded to keep playing if they could see a direct pathway to the professional game on their doorstep?
Harbour chief executive Brett Hollister says: "If a sixth team is added, then we would want to be part of that process. I think that we have all the attributes - population, facilities, transport links.
"I also believe [a Super Rugby team] would help unlock the potential of the greater Auckland region and help us retain some of the talent we have lost in recent years."