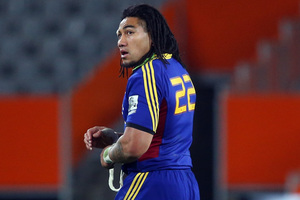 There have been clear-the-air discussions, gentle coercion from outside parties and what might be described as a summit meeting in the past few days and still Ma'a Nonu remains in limbo.
He is the player who can't find a franchise. The place he really wants to be - and where everyone thinks it would be best for him to be - is the Hurricanes but they continue to say they don't see Nonu being the right fit for them.
Hurricanes coach Mark Hammett is not budging, according to those in the know. He's heard all the reasons why he should take Nonu back, spoken to the player and his agent, the New Zealand Rugby Union and New Zealand Rugby Players' Association, as well as senior players within the Hurricanes ... and still he doesn't see Nonu as part of his set-up.
The NZRU are trying to give the impression they aren't overly concerned; they don't want to be seen to be sticking their oar in. The NZRPA are taking the same approach, willing to support their player without leading or driving the debate.
Yet for all that the interested parties are trying to appear casual, trying to present the situation as not majorly out of the ordinary, there is genuine concern behind the scenes about what will happen should talks with the Hurricanes stay at impasse.
The situation is unprecedented - there has never been an All Black of Nonu's calibre left in limbo like this. The NZRU are desperate for him to stay; the All Blacks know he's a big part of their plans between now and 2015. Nonu wants to stay in New Zealand - his desire to play test football has not diminished.
But what's he to do if he can't find a franchise in 2014?
"We will help where we think we can add value," said NZRPA director Rob Nichol. "Clearly there is a uniqueness to the situation and people need to recognise these things take time. The thing worth stating here is that Ma'a is a world-class player who is highly popular with his peers and has many good friends in the game who want him to play here. Everyone connected with New Zealand rugby wants him to stay here."
The situation is delicate in that the NZRU don't want to force Hammett into taking Nonu against his will. As coach, he has the right to select the players he wants. His job is on the line, determined as it is by performance. How can he be fairly assessed if he's had someone foisted on him against his will?
Having sacked Nonu in 2011, Hammett has legitimate concerns about welcoming him back. The coach has clear ideas about the type of people as well as the type of players he wants and the culture he feels the team needs to have to be successful. Nonu may be world-class but Hammett obviously isn't convinced, two years on since letting Nonu go, that the All Black second five-eighth can tick the other critical boxes.
Hammett's view is valid and has to be respected - but that doesn't solve the Nonu issue. The negotiations are expected to focus on the risk-reward scenario for Hammett. He sees Nonu as high risk, yet it can just as easily be argued that he's at the opposite end of the scale. If Nonu returns, the world will be watching. There will be no ambiguity about the expectations both on and off the field. One indiscretion from Nonu, one hint of stepping out of line and he'll face severe consequences. The pressure to conform sits almost entirely with Nonu - not Hammett.
So perhaps the risk is zero and the reward is a world-class No 12 who could make a huge difference to the Hurricanes. They have an impressive array of talent across their backline - especially if they can retain Julian Savea and successfully rehabilitate Cory Jane.
What they have missed in recent seasons is a direct, line-breaking threat in the middle of the field. They need a bruiser; a physical presence and go-forward sort of player and there is no one - well, maybe Sonny Bill Williams - who does that better than Nonu.
Everyone would have preferred for this saga to have ended before the start of the Rugby Championship but that now seems unlikely.
As to what Plan B is should the Hurricanes and Nonu fail to reach terms? No one is willing to say.