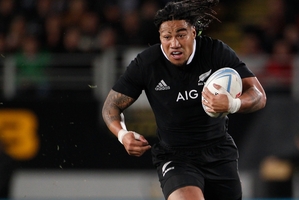 The Highlanders have not shut the door on Ma'a Nonu but have not heard from the midfield back or his agent since April.
Nonu, 31, appears homeless - in the Super 15, anyway - after his desire to return to the Hurricanes next year was given the cold shoulder.
Hurricanes coach Mark Hammett dumped Nonu at the end of the 2011 season, and reports out of Wellington yesterday indicate he is not changing his stance and has told Nonu he is not wanted back in the capital.
With the Blues, Chiefs, and Crusaders all saying they do not want Nonu, the focus has now switched back to the Highlanders.
Highlanders general manager Roger Clark said last month the franchise had "moved on" from Nonu and was not planning to have the midfielder back next season.
He said yesterday that was based on the assumption Nonu had wanted to go back to Wellington.
"We had an offer on the table in April but the signal we got from Ma'a is his preference was to go back to Wellington. So we have not talked to him or his agent since then," Clark said.
"Obviously, the door is not shut. You never say never. The bottom line is we have got 10 places to pick for our squad and we have got a lot of rugby to watch in the next couple of months in the ITM Cup."
Clark said the Highlanders had not had any discussions with the New Zealand Rugby Union about Nonu.
The NZRU is keen to keep Nonu in New Zealand but may have to force a franchise to take him against its wishes. It seems incredible, but Nonu has become persona non grata to New Zealand franchises.
When he wears a black jersey he looks top notch, but that form has deserted him when playing at Super 15 level in the past couple of years.
Super 15 squads are named at the end of October, but with the All Black campaign starting next week with a game against Australia in Sydney, Nonu and the NZRU will want the impasse resolved as soon as possible.
Nonu played just nine times for the Highlanders this season. He was hampered by a knee injury and did not travel to South Africa.
Late in the season, he was sent off for a tip tackle against the Crusaders, after coming on as a substitute. He copped a three-week ban.
Nonu had approached the Highlanders in late 2012, wanting to get out of the Blues, and was seen as a huge signing for a franchise which appeared to be assembling a strong squad. But it all turned to custard as the Highlanders won just three games and finished 14th.
Clark said the Nonu issue was an anomaly of the central contracting issue, where the NZRU contracted all the players. That led to a situation of conflict between what the national union wanted and what Super 15 franchises wanted.