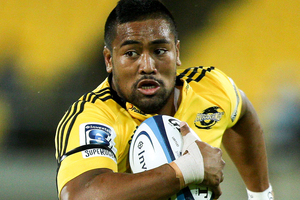 It's a case of one down, one to go for the Hurricanes as they bid to retain their All Blacks for next season.
Following the announcement today that pivot Beauden Barrett will return to the Wellington franchise on a one-year deal next year, the Hurricanes will now turn their attention to blockbusting wing Julian Savea.
Barrett had been seriously contemplating a move north to join the Blues and the strong coaching unit under Sir John Kirwan but will pull on the yellow of the Hurricanes next year - the franchise his father, Kevin, represented in 1997 and 1998.
Hurricanes chief executive James Te Puni said it was now about coming to an agreement with their left wing Savea, who has played 11 tests for the All Blacks since his debut last year.
"Julian - we are fully engaged in terms of those discussions,'' Te Puni said today. ``In my opinion, Julian's one of the best wingers in international rugby so there's always going to be a queue at the checkout when it comes to him re-signing so we respect that.
But both for the Hurricanes and for New Zealand Rugby, there's no deal done. So we'll just do our best there and hope that Julian ends up in a Canes jersey.''
The franchise stood by Savea when he was charged with assault in April and Te Puni acknowledged that loyalty had been welcomed by Savea and his family but it didn't guarantee he would return to the side next year.
But today's confirmation that Barrett will play in the capital in 2014 must be seen as a victory for the Hurricanes who were in real danger of losing the man their franchise's fortunes hinge on.
Super Rugby titles are rarely - if ever - won without a champion No 10 to guide you around the park and Barrett is currently the third best first-five in the country and at 22 will only get better.
One of the biggest blunders the Hurricanes made this year was when they pushed Barrett to fullback for two games and his confidence took a notable hit, but coach Mark Hammett said such a switch wasn't on the cards for next season.
"We see him as a first-five and I see him holding a World Cup trophy aloft with No 10 on his back at some stage in the future,'' Hammett said today.
That's a mighty prediction but it was evident today that Hammett was relieved Barrett had decided to return.
"Special athletes are going to be wanted by more than just us, so there's always going to be challenges around how we keep promoting our players and making sure we are the environment that they want to belong to and I think we've done a pretty good job.''
Te Puni admitted they wanted Barrett for a two-year deal and they were prepared to discuss even longer but said a one-year contract was reflective of the trend among young players.
The Hurricanes have 25 players on the books for next year and they will look to fill out their roster with talent from the upcoming ITM Cup.
As for the curious case of Ma'a Nonu, Hammett and Te Puni both said there was nothing to add, which means the door is still ajar on a possible return to the Hurricanes for the All Blacks No 12.
- APNZ