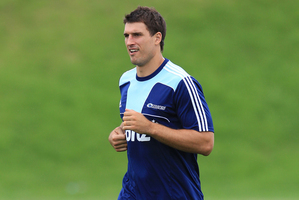 Win or lose, it won't really matter too much for Anthony Boric against the Waratahs today.
His goal is to take another step towards normal service after spending the better part of last year pondering whether he would retire or elect for difficult and dangerous surgery on a bulging disc in his neck.
After much agonising - mentally and physically - he made the decision to go under the knife and resume a career that has seen him win 24 test caps and a World Cup winners' medal.
He's managed three games for the Blues development side this year where, according to reports, he performed progressively better - to such an extent that Blues coach John Kirwan felt comfortable naming Boric on the bench for this afternoon's clash in Sydney.
"We have picked him because he has stopped mentally processing," says Kirwan. "He has had three development games and, in the first game, I think he was thinking about his neck and did things he wouldn't normally do.
"He has just progressively gone better. He is in the side because he will not think about it any more. That is an important process for him to have gone through and we are just pleased to have him back."
Lock was an area of significant concern for Kirwan when he was selecting his squad last September.
Of the contracted players he inherited, Filo Paulo was deemed not up to standard, Boric was a major doubt and Ali Williams, while a world-class operator in his prime, was still struggling to impose himself after almost two years out of the game with Achilles problems. Liaki Moli was the only certainty - but Kirwan views him as a high impact player probably better suited to play off the bench.
Culum Retallick was recruited from the Highlanders to bolster stocks but Kirwan was always gambling on Boric being able to pull through and be a commanding force once again.
In 2011, when the Blues made the semifinals, it was Boric who was their outstanding forward until he was injured in mid-May. He played the senior role back then - guiding Williams and setting the standards.
That was much the same case in 2010, when Williams was absent through injury. Boric found a new dimension to his game both at the Blues and with the All Blacks, where he finished the season with the best performance of his career against Ireland.
The Blues know they will need to up the intensity of their forward play not only today but over the next month as they face a run of New Zealand opponents, then the Reds in Brisbane and the Stormers.
That stretch will have a major bearing on their season and they will need consistent graft, impact and presence from their tight five. They need Boric for that.
They will, as Kirwan says, need to also tighten their ball retention, run more directly and win the collisions at the coal face.
"There is no use going wide if you are not going forward and the most important thing for us is to establish our game by doing what we do well. You can't do that at this level by being one dimensional. We have to go forward; win our set-piece and then have the right launches in the right areas.
"The thing that let us down against the Bulls was we can't play our game if we don't hang on to the ball for more than three rucks. That is just a little bit of personal attention to detail for the players and making sure they hang on to the ball."