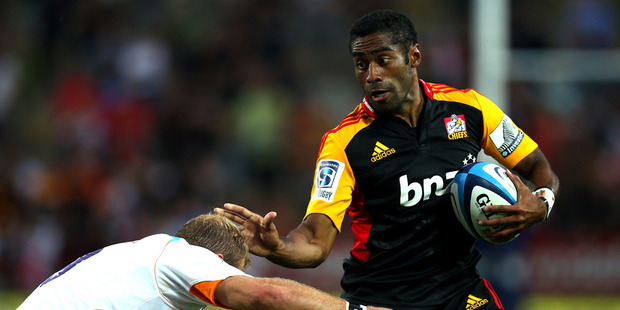 CHIEFS 45
CHEETAHS 3
It's a rotten business playing the Cheetahs - a dangerously good side with plenty of starch yet it would be seen as a mini disaster to lose to them.
That reality made life tricky for the champion Chiefs tonight: they had to dig deep, weather a constant storm and have lumps taken out of them all to collect points that everyone else had already banked for them anyway.
They did it with some style, though - sucking up all that was thrown at them before building a performance bit by bit; asserting themselves minute by minute.
What particularly impressed was that the Chiefs managed to get one hand on the throat of the Cheetahs before they brought on Tawera Kerr-Barlow to relieve Augustine Pulu who was having a difficult night and then skipper Craig Clarke shortly after.
It said plenty about how the Chiefs have developed in the last 18 months.. In their previous life - before the arrival of the current coaching team - the Chiefs could easily have been in desperate trouble after a commanding first half assault by the visitors.
But they are made of entirely different stuff these days - comprised of better equipped players who can graft in difficult times and dig out tries from not much.
In Brodie Retallick they had the best work horse on the paddock. His stats will no doubt show he hit an incredible number of rucks. won most of the lineout ball and tackled like a loose forward. On top of that, he made a critical charge-down after the break to create a try for Ben Afeaki - the big prop impressing almost as much with his all round game.
Sam Cane was equally industrious and Lelia Masaga still obviously drinks rocket fuel before he plays. There are too many reliable, solid players at the core of the Chiefs to be blindsided by a team such as the Cheetahs.
The home side's defensive structure was too good to be fully broken and their self-belief is impregnable. There was never a hint of doubt that the game would be theirs - that by 60 minutes they would have both hands on the jugular and would be in total control.
That took some mental fortitude to stay so calm because it didn't look inevitable by half-time.
The basic problem was that the Chiefs couldn't get their hands on the ball. The Cheetahs were tidy at set-piece and hugely physical at the breakdown where they forced turnovers with both the impact of their initial defence and the speed with which they were able to attack the ball on the ground.
They also did what so few South African sides do when they come to New Zealand and treasured possession.
For long periods of the first half there was a well orchestrated wave of white sweeping one way then the next. Their handling was crisp and their timing sharp - all they lacked was the killer touch. They could stretch the Chiefs, pull them this way and that, but that elusive deadly blast was beyond them. All that effort saw them fetch a measly three points and that was their mistake - they left no indelible print.
Without a points total to make the pressure real, the Chiefs were able to tighten and squeeze and then accelerate out of sight. The final 10 minutes ended up being an opposed training run for the Chiefs and it was then that the mastery of their performance became clear.
They had been toying with the Cheetahs all along - absorbing what they had and then picking them to pieces.
Chiefs 45 (L. Messam, B. Afeaki, A. Tikoirotuma, G. Anscombe, R. Marshall, B. Tameifuna tries; G. Anscombe 6 cons, pen)
Cheetahs 3 (R. Goosen pen)