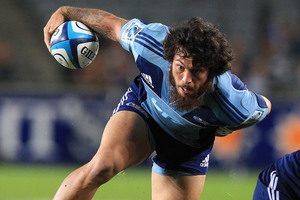 Footy's back and almost as we knew it. Months of spectator inactivity in the Southern Hemisphere eased last night as the Super 15 worked its way back into our consciousness.
It was probably a hard-sell here because the T20 cricket in Wellington must have connected more with a sporting audience than two tail-end Charlie Aussie sides duking it out in Melbourne.
Rugby's red-carpet opening night was over the Ditch as the Rebels hosted the Force, probably as a marketing ploy to connect the city to the upcoming mid-year visit from the British and Irish Lions.
That tour has messed with the Super 15 programme again and we will go through the season with lopsided points tables and the dopey system of awarding teams four points for each of their bye rounds.
But there is novelty in some of the competition variations, innovations which will test the eyesight, nerve and courage of the men in the middle.
If a referee suspects, or his assistants believe, there has been some piece of foul play which they did not pick up initially, they can call for a replay on the big screen to check out that hunch. The referee will then scrutinise the footage while fans will no doubt convey their support or condemnation.
That is the extent of the altered review powers for the referee and his assistants but the television match official (TMO) has been given an extended brief.
The TMO can now be asked to inspect the two previous phases in footage leading up to a try, to see if there has been any obvious infringement.
Referees will also ask players suspected of concussion to undergo sideline assessments before they are allowed to return to the field.
Sanzar authorities want three areas scrutinised more this season in in their bid to have a game which is cleaner and more widely understood.
Front rows will be told to bind straighter without delay, cheats in the tackled ball area will be walloped and offside lines will be inspected more.
Angus Gardner was the ref in the gun last night and Andrew Lees will be centre-stage tonight when the Brumbies and Reds battle.
The New Zealand sides, except the bye-tied Crusaders, will roll into their official work next week with the advantage of more fine-tuning after absorbing this round.
To these eyes that will be the real start of the series.

Play Virtual & Fantasy Super Rugby
Test your tipping skills with Virtual or create your dream team with Fantasy Super Rugby and be in to win a slice of over $10,000 in prizes.
Be part of the game and sign up now.