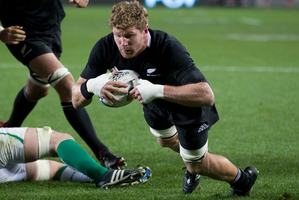 Highlanders and All Blacks flanker Adam Thomson is seriously contemplating a move offshore.
Thomson is off contract at the end of the season and is being courted by his current Super Rugby team and the Blues.
After spending several years playing second fiddle to Jerome Kaino in the All Blacks, he now appears to behind Liam Messam and Victor Vito in the pecking order.
"It's a possibility. I've played a lot of rugby here and not getting any younger and I've got to look at opportunities and look at the future so I'm off contract so it's certainly nice to have a look at the options,'' he told Radiosport.
He says the argument for heading offshore is compelling.
"Money is a big thing and with me especially, there's only a finite amount of time you can play. You can't play into your 40s and 50s unfortunately so you have to make the most of the opportunity you've got right now.''
The Blues, rebuilding under new coach John Kirwan, are believed to be keen for him to make the move up north. Thomson also spends a lot of time in Auckland with his partner.
Thomson told the Otago Daily Times in the weekend that the first decision to make was whether or not he'll stay in New Zealand.
"I've enjoyed my time down here. In saying that, I'm not getting any younger and I need to start looking at the future.
"Whether that's committing to New Zealand rugby ... that's probably the first decision I have to make. Once I've made that decision, then I can decide what franchise I play for."
Thomson, 30, said he had no firm offers, as such, but was "talking to people".
He has been the Highlanders' best player for years and has played all his provincial rugby for Otago and all his senior club rugby for Otago University. Losing him will be a blow for all those organisations.
"I've enjoyed my time down here but there are other options now," Thomson said.
"There's a lot to say for a player who can play his whole career for one franchise or one province. I've got a lot of respect for guys that have done that.
"But also, when you get to my age and have played for this long, maybe a different environment can spur you on a bit."
Thomson enjoyed playing for Otago on Saturday but conceded he was disappointed not to be helping the All Blacks beat the Wallabies at Eden Park.
His international career seems to have hit a speed bump. Messam has returned to the fold and Vito adds extra physicality, so Thomson's unique blend of pace and talent on the blindside flank has been sidelined in the opening rounds of the Rugby Championship.
"I'm a bit disappointed. But in saying that, I came out of the Super rugby season pretty knackered. I've freshened up and put a bit of weight back on.
"Hopefully I can play one more game for Otago and come back into contention for the next test."
Thomson was impressed with the pace of his Otago teammates, most of whom he barely knows, and their willingness to play at a high tempo.
- Newstalk ZB/Otago Daily Times