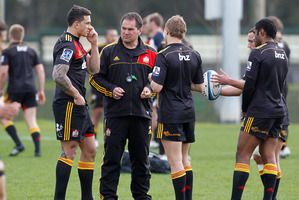 Last April, it was announced that Dave Rennie would coach the Chiefs in 2012.
The region wondered about the future but guessed there would be progress with Tom Coventry, Wayne Smith and Andrew Strawbridge filling up the coaching crew.
That was a great deal of experience but what cattle would they collar, what sort of side would they assemble to tackle their first year of Super rugby?
There were answers. Aaron Cruden would trek north to continue his tutelage under Rennie, Sonny Bill Williams would be on board as a tandem strike in midfield with Richard Kahui while the forwards were a mix of promise, grafting provincial men and some nuggets.
The frontrow frailties of previous regimes appeared to have halted while Rennie and his crew went for players with hard minds and a work ethic.
Perhaps, dunno and not sure seemed to be the predictions about their 2012 season.
The TAB had them as mid-table favourites for the title.
On Saturday, Rennie and his side made history as the Chiefs got their first crown and Rennie became the only coach to win the title at his first attempt.
The former schoolteacher, turned pub owner then rugby coach had orchestrated what Brad Meurant, Ross Cooper, John Mitchell, Kevin Greene and Ian Foster had been unable to achieve in their terms with the Chiefs.
So why did Rennie think his franchise had made gains and how?
He had been privileged to work with the best coaching group he had ever been involved with, he said.
"They are very hardworking and all four coaches are pretty experienced. So we have some great discussions and challenge each other and that has made a real difference I think.
"We have got four really good thinkers of the game," said Rennie.
"In the end we say what we like and train them but these boys have got to put it out on the park."