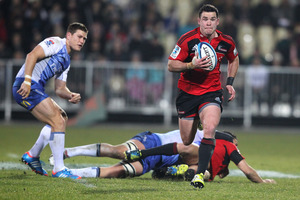 Ryan Crotty says he and his team- mates believe this could be their year. Photo / Getty Images
For Ryan Crotty, the man who kept him out of the game for several weeks is now making him look good.
Crusaders second-five Crotty endured a frustrating start to the season when a hamstring injury sidelined him and then usual playmaker Dan Carter convalesced from his groin problem in the No 12 jersey for five games.
But Crotty, who made an eye-catching return to second-five in the big victory over the Blues in Christchurch and has continued his good form, said the Crusaders had Carter's class to thank for their charge to a semifinal date against the Chiefs in Hamilton on Friday night.
With Sonny Bill Williams heading to Japan to play club rugby and then the NRL, every bit of exposure is good news for Crotty, who said the way Carter was taking the ball so flat against the defensive line was a huge boost to him and centre Robbie Fruean.
"It just makes my job and Robbie's so much easier," he said. "When he's taking it so flat the defence is always on the back foot. It makes it easier to get over the gain line and get strong carries in. He has been turning it on, but it was only a matter of time. He's world class, isn't he?"
Carter was up against fellow international Morne Steyn in the qualifier against the Bulls in Christchurch last weekend but the Springbok was made to look like a nervous schoolboy in comparison. Steyn, who receives the ball much deeper than Carter, was unable to dictate play with his kicking as he likes.
As Crotty said, "If you sit back in the pocket it gives the D [defence] time to come up" and that's exactly what happened - the Bulls' backs (and forwards for that matter) were easy targets in the Crusaders' 28-13 win.
Crotty has a feeling the Chiefs will attempt to revert to what has made them successful this season.
"We've heard them speak in the media this week about wanting to play Chiefs rugby so that might suggest they will kick a little bit less and run the ball at us a little more, which is something we'll plan for."
There is also likely to be a personnel change in the midfield. Andrew Horrell, a first-five or fullback, played centre in the match-up on July 6, which was won by the Crusaders, a surprise choice given Jackson Willison's expertise. But it's likely Willison will get the nod to partner Williams this time.
For the Crusaders there is a belief that this could be their year, he added.
"The boys are conscious that if we can win this week, it's right there for us."
Crotty said skipper Richie McCaw was the man driving the new attitude.
"Some of the things he says to the boys are really good as well. There's real belief among the boys that we can do it and he said in the changing room [after the Bulls match last weekend] that it's right there for us. We just have to go out there and do the simple things well."
- APNZ