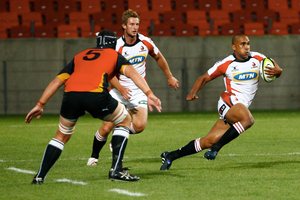 Once there were 10, then 12, then 14, now 15 - and by 2016 it's almost inevitable Super Rugby will expand again, with 18 the most likely number.
Change will be driven primarily by events in South Africa, where they are in a frightful pickle as to which five teams will be in Super Rugby through to the end of the existing broadcast contract in 2015.
They may cull the Lions or persuade the Southern Kings to postpone their Super Rugby entry but, whatever outcome is reached next month, the South Africans will push for a sixth team to enter the fray from 2016.
They haven't been able to get their way this year - the existing deal won't be amended - but they will force change as part of the next broadcast negotiations. That will have serious ramifications for New Zealand and Australia.
Maintaining the 15-team set-up is a possibility but South Africa have been clamouring for greater representation for some time now. Earlier this year, they promised the newly-created Kings that they would be entering Super Rugby next year.
At the time, the South Africa Rugby Union thought they would be able to successfully persuade Sanzar to amend the set-up in 2013 to be Super 16 - with six teams in the African conference.
"But you have to have an equal number of games in each conference," says Sanzar chief executive Greg Peters. "You could have, for example, an Australasian conference and a South African conference but the number of qualifying games has to be equal. We have looked at various balances of teams across the conference and we could not make any concept work where the numbers weren't equal."
A sixth team in South Africa means either a sixth team in New Zealand and Australia or a combination of four new teams invited in from various parts of the world to form a new conference. The travel demands of the second choice make it an unlikely starter but it is feasible that the sixth team in the New Zealand conference is not based here.
New Zealand's player base would be seriously compromised, much like Australia's, by having to provide players for another team. Already it is questionable whether all 150 players in Super Rugby are genuinely worthy of professional contracts.
To add another 30 players could be disastrous, given the example of Australia whose lack of depth has been exposed by the introduction of first the Western Force and then the Melbourne Rebels.
The solution may be to create a new side in Japan - comprised from Australian, New Zealand and Japanese players - or create a Pacific Island side based in Australia or Auckland. Argentina are desperate to get a better grip on professional rugby in the Southern Hemisphere while the US has been interested in the past.
"There is certainly an appetite to consider going beyond the current geographic frontiers," says Peters. "Argentina, I'm sure, have aspirations to be involved and with the World Cup in Japan in 2019, Asia-Pacific is a major economic player in this region and then you have the Americas.
"But we need to have commercial imperatives to expand and any change has to meet the objectives of the three individual Sanzar partners."
The conference format has been a major commercial success. Since its inception last year, crowds and viewers have grown and sponsor interest widened. A notoriously conservative body, Sanzar is not prone to ditching a good thing.
While Peters says all options will be on the table but it will take a compelling reason to instigate radical change.
"All three of the Sanzar partners will hold views about what the competition might look like from 2016," says Peters. "We are open to all those ideas but, having said that, the current format is proving successful and to shift from a successful format, you would need to have strong reasons."
Research into the commercial ramifications of expansion will begin later this year with a view to starting formal talks between the Sanzar partners and broadcasters in 2014. Peters and specialist organisations will be assessing the viability of adding new teams either into the existing conferences or building a new conference out right.