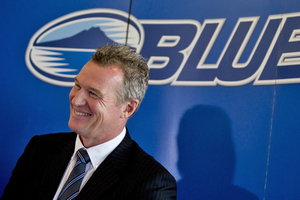 Former All Black captain Buck Shelford has criticised the appointment of Sir John Kirwan as Blues coach.
Kirwan's been appointed for two years replacing the sacked Pat Lam.
Shelford says Kirwan hasn't come through the coaching ranks here.
"He started his coaching at international level basically, he never coached down the bottom and it's like he's been fast-tracked to a career of coaching. Internationally he's probably only done about 20-30 games in the last 10 years," he told Radio Sport's Tony Veitch.
"I would have liked to have see someone in there with a lot more experience and I don't really believe that selection reflects three provinces."
Kirwan's only coaching experience in New Zealand was as an assistant for the Blues during the 2001 season. Following that he signed on as the Italian head coach for four years and then coached Japan from 2007 to 2011.
Japan won 31 of their 55 games under Kirwan's tenure for a 55.18 per cent winning record.
Shelford says being in charge of international teams is less demanding.
"You only play about 10 games a year maximum and not a lot of coaching is it? Compared to some of the other coaches who have spent two or three years in ITM Cup. Kieran Crowley especially with Taranaki then overseas, (and) club football. Compared to JK who has never really done that."
- NEWSTALK ZB/HERALD ONLINE