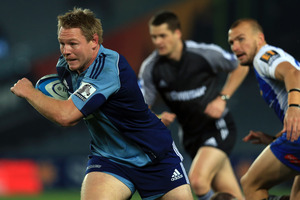 It's been a rare sight this season - the Eden Park scoreboard beamed out a 32-9 Blues victory.
But there were few signs of rejoicing from the coaching staff. In what has become an event that happens every two months, the Blues added to the win against the Bulls in March and the Lions in May.
If they had botched this chance against a Force side weakened by the absence of David Pocock and then interim captain Nathan Sharpe shortly before the match, the Blues would have endangered even more of the paltry 10,200 audience.
There was not a lot for them to enthuse about, or coach Pat Lam and captain Keven Mealamu as they discussed some of the production.
Bright moments came with the debut of young fullback Charles Piutau, the continued progress of flanker Steven Luatua, the rumbustious Ma'a Nonu and a 50th cap for deputy hooker Tom McCartney.
But the greatest satisfaction was the defensive wall that did not concede any tries against the visitors.
The coaching group were especially pleased with the way the side controlled territory after the interval.
"The boys stepped it up and once they got into gear certainly they played better rugby," said Lam.
It could not have been much worse than the dreary opening half as the Blues staggered to a 13-9 lead after Luatua's try in the corner.
After the break, Nonu, Piutau, and Luke Braid scored to claim the bonus point as Lachie Munro kicked five from seven shots at goal. Lam did not admit to any emotional thoughts that this match might have been his last in charge.
"Not at all, it is not about me, it is about the team and at the end of the day no decisions have been made on that yet," he said. "Until there is I just keep fighting, head down, do the job and then let the powers that be make some decisions in the next few weeks."
The emergence of Luatua, Piutau and Francis Saili, who were part of the national under-20 side last season, had been one of the brighter patches in a difficult season.
"No one knew what the World Cup would bring," said Lam. "It was the first time in professional rugby that we won the World Cup and you would have to say, if you look back on this year, that it is the year of the young guys."