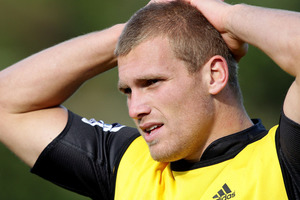 Luckily for Brad Shields he is more accurate at the breakdown than he is at calculating his food shopping bill.
The big loose forward has been one of the many notable performers for the Hurricanes this year and at 1.94m and 109kgs he has the frame to impose himself on a game.
He flats in the capital with his younger brother, Nick, fellow Hurricane Reg Goodes and Wellington academy member Joe Latta, and considering there's four young lads under one roof there's plenty of food consumed at the dinner table, although working out how much to buy can be an issue.
"It was a problem the first time we went to do shopping," Shields laughed.
"We didn't really know what we were doing, kind of got to the checkout and went 'holy ... ' but since then we've kind of budgeted a little bit better."
Although he didn't give too many specifics, you get the impression there could be a few hijinks going on with that number of blokes in the same flat.
"It gets pretty hectic, but we enjoy it and we just make the most of it."
Living situation aside, this year has been a remarkable one for the Masterton-born 21-year-old, who won an junior world championship title with the New Zealand under-20 side last year.
After debuting for the Wellington provincial side as a 19-year-old in 2010, he made an impact on the ITM Cup last season as one of the Lions' best forwards and the step-up to Super Rugby seemed the logical progression.
What was a shock, though, was to hear Shields' name announced as one of the chosen 35 to join the All Blacks' wider training group for their camps this year despite the Taita College-educated player having only made a handful of appearances from the bench for the Hurricanes.
He may have missed the final 30-strong squad to meet the Irish in the recently-concluded three-test series but his elevation to the wider training group gave an indication of what esteem the rookie is held in by those at the top level.
"It's been pretty exciting. It's pretty different to what I'm used to but I'm loving. I can't wait for more," Shields said of his year.
"I think my goals were just to make that 22 for the Hurricanes and then from there on just try and play my way in to that starting 15. Whatever happens, happens and I'll do my best for the team."
Shields has made 12 appearances in all for the Hurricanes this year, including three starts; one of which came against the Crusaders during the weekend when the Wellington-based franchise kept their season alive with a gutsy 23-22 victory.
His start may have came about due to the injury suffered by international Victor Vito but Shields showed he wasn't out of place at Super Rugby level with a typically physical display and that confrontational nature is something the All Blacks coaches told him to focus on.
"When I got some feedback from the coaches it's just being able to get the ball really, be really physical in that ruck and in the tackle. I think that's a strength I can keep working on."
After battling through a left shoulder problem that kept him on ice for a few weeks during the middle stages of the season, he said he was in top shape again and after the Super Rugby season finished he couldn't wait to rip in to the ITM Cup for Wellington again.
He laughed at the suggestion he would be a senior man in the side considering it'd be his third season in the competition but he acknowledged a big campaign could see him book a ticket for the end of year tour with the All Blacks.
"I've just got to keep working hard. Keep my head down and whatever happens, happens. That'll definitely be a goal and if that pops up, I'll take it."
Luckily, the food on tour will be provided.
- APNZ