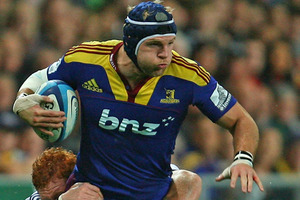 James Haskell's southern experience is coming to an end and he admits the mind is willing but the body is telling him it is time for a break.
English loose forward Haskell arrived as the first Highlanders overseas player, and says Dunedin has left quite an impression on him.
"In the emotional sense I do not want it to end. But in terms of physically, and my body, I need a holiday. I obviously want to do the team justice and carry on. But my body is starting to creak a bit and I need to rest."
Haskell is always last to leave the training paddock, and he admitted a two year continous spell of rugby was starting to chip away at his body.
"I am looking forward to the challenge of playing the Reds this weekend and going as long as possible. But I will be ready to hang up my boots sharpish."
He was looking at Las Vegas or Miami as a holiday spot or somewhere in Europe to chill out.
It has been an eye-opening few months for Haskell, who has liked what he saw from rugby in New Zealand.
"The Super 15 is a fantastic tournament. Rugby in New Zealand is not jaded by commercialism like in the UK. You have small squads so you get to know everyone. It is not amateur. It is professional, but it is a very small professional thing, certainly in Dunedin. Everything that is good about rugby has been kept. You get to have a beer with the opposition after the game. I see why people want to keep playing."
He said squads were much larger in the United Kingdom, and there was a lot more work around sponsorship and commercial endeavours.
Media in New Zealand were also more focused on events on the field than off it.
"There is a bit more of a game interest. If you play well they'll say you played well, If you played badly, they'll say you've played badly. They do not start going on about your personality and that."
On the pitch Haskell said it was an attacking, flowing game in the Super 15.
The good fields and the weather undoubtedly helped the game in the southern hemisphere, and Haskell was a huge fan of Dunedin's new roofed stadium.
"In England we never want to play 10-man rugby and stick the ball up your jumper but weather-wise conditions make it like that. Over here you have got better pitches and better weather.
"This [Forsyth Barr Stadium] is the best stadium I have ever played in. It has revolutionised the way you can play in a roofed stadium... if I never had to play outside again I would be happy.
"Dunedin has got its own weather system. It is pouring with rain outside and you come in and it is a hard, fast track, under spotlights with a great crowd. I don't know how anyone could complain about this stadium. If we had one of these in the UK we'd be laughing."
Haskell would be heading back to the Wasps club, which appear to have staved off financial problems, but he did not rule out a return south.
"If I am not in the England frame, and not enjoying it, I'm going to call Jamie Joseph up, if he is still here, and see if I can come back.
"I would love to come back, for any part of any season. I have loved it here. Made some great friends. A lot of these guys have been really great friends and I will keep in touch for a long time."